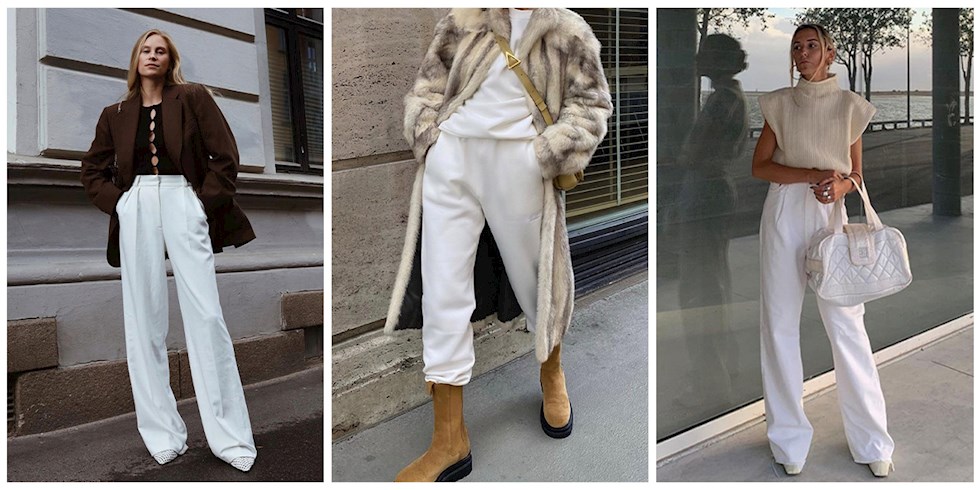 It's time to include white trousers, which are seen as one of the most challenging pieces of fashion, into your life again! White trousers, which are generally not preferred because they show every detail, are unexpectedly among the favorites of autumn. In fact, white trousers, which are worn more in spring and summer, are very suitable for the cold season with their snow-white effect! We've prepared many styles to break your prejudices against this style. White trousers, updated with different fabrics from knitwear to leather, are ideal for creating unusual season looks.
We've been seeing a minimalist effect among Instagram influencers lately. The simple but elegant art of dressing, which started especially during the quarantine process, is now moving to street style. You can also see whites and ecru as part of this minimalist effect. White trousers, which create a 'fresh' and stylish style, are a great way to try different Fall 2020 trends! You can create completely different styles with the accessories and micro trends you add to this trouser style, which resembles an empty canvas. We can say that white trousers, which you can carry to night style with silk suits, street fashion with loose-cut jeans, and cargo pants to Sunday breakfasts, break the old fashion rules.
On Instagram style sheets and by influencers, we often see snow-white trousers paired with ecru and beiges, as well as with vibrant colors and blacks. Creating a classic autumn look with beige tones, the white trousers win the spring with neon-inspired glamorous tones. You can try a different style this season instead of straight cut and high waist jeans or dark colored trousers that you wear every autumn. Surprise your autumn wardrobe with white pants!
You can examine the matches inspired by the white pants style of 10 influencers in the photo gallery …