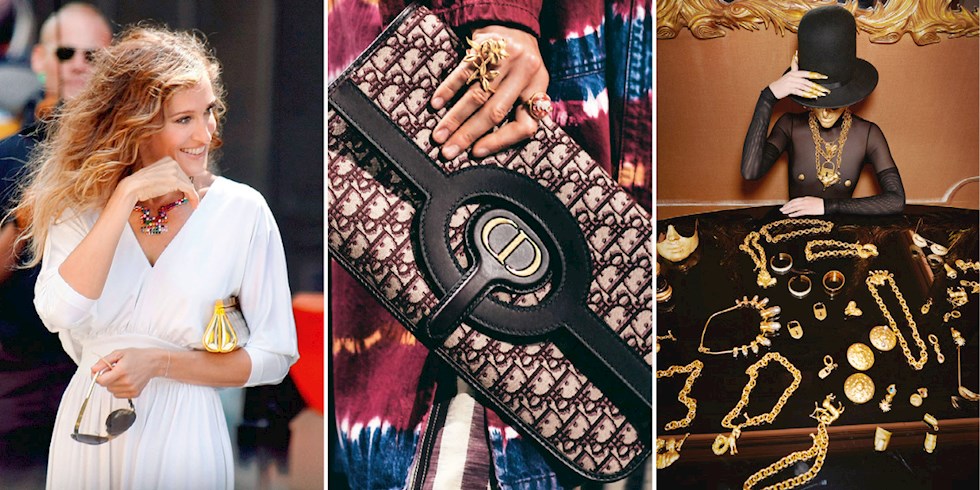 I am at Paris Fashion Week in March 2018. I'm wearing a vintage Alaia jacket. I feel like I'm wearing a piece of art. With the self-confidence of carrying such a special piece on me, even for a few hours, I walk towards the Miu Miu fashion show that will take place in Place d'lena. There was an incredible traffic on the street. With my invitation in hand, the vintage Alaia on me, I got out of the taxi and started walking. As far as I remember, on the 200-meter road, five people asked what was on me. Considering that the street was full of fashion journalists, editors, influencers and buyers, I could tell from everyone's eyes what a special piece I was wearing. I also remember how my hands trembled as I returned this special piece to my friend, whom I borrowed years later. How did a design belonging to another time period evoke such a sense of belonging to me? And how is it that until then, I had not realized how powerful vintage pieces could bring to my life. For a long time I wanted to really own this jacket. It was a love that didn't belong to me. It was a strong-standing piece with character. No one else had a partner. You taught me, dear Alaia, that vintage clothes are not just used, second-hand clothes. It had a story, a life experience, and it was bringing it together with my life. I think when my enthusiasm combined with this strong jacket, we felt the same energy outside. As I conclude the love letter I wrote on a jacket, I invite you to a journey to the world of vintage.
The popular fashion trend of an era is back on the agenda. We can simply attribute this to the importance of sustainability. Although the boundaries between the concept of second hand and vintage are blurred, and even if there is a distinction between the masters of this work, the vintage world starts with pieces from the 1990s for many. Nicky Albrechtsen, author of Vintage Fashion Complete, says that not only sustainability, but also high fashion brands extracting and modernizing "old" designs from the archives sparked an interest in vintage. "Seeing such strong references in new season fashion shows encourages people as well. So they want to have the originals of what they see. Most of the time, instead of spending big money on high fashion houses, those designs close to the originals get a vintage version by giving them lower budgets. " According to the researches, the rate of purchasing second hand women in the last year is around 64 percent. This rate was only 45 percent in 2016.
NEW BUT LIKE A VINTAGE
Dior brought the Saddle Bag back, Prada nylon bags, Fendi Carrie Bradshaw approved baguettes from 1999… Today, all high fashion houses are bringing back their vintage pieces. Even though Vintage experts differ in terms of periods, they have a common theme; That vintage brings sustainability to the fashion world at the end of the day… "As people become aware of upcycling, they start to keep warm with these pieces that can be re-evaluated," Albrechtsen said in an interview.
After a year of no real need for any clothes (except for sweat suits), we realized that the fashion we know traditionally started to change. Our consumption habits also changed with the said Z generation like a lab rat in a cage. Yes, we still have an incentive to buy things, but what we bought became clothes that were produced long before and that others do not use. In addition to ecological and ethical issues, there is also a budgetary side to the job. It is a tremendous feeling to be able to buy pieces by designers that you admire but can't afford, at much lower costs. I feel great happiness every time I use the vintage Gucci bag that I bought years ago at a boutique in Istanbul. Vintage pieces are like this, the pleasure of use is different, you know it will not be another. And you feel like you have timeless style. It has been a year that we questioned 2020 clothes. We realized we didn't need that much. We were faced with how much unnecessary shopping we had done. Those who could take responsibility claimed their will and their desire to buy evolved in more ecological directions. Thanks to a generation with high awareness, our consumption habits are beginning to change and vintage will be the most important bearer of this path.
WHICH PARTS TO INVEST?
Leather jacket Oversize and Matrix-like leather jackets are popular nowadays, but a well-cut leather jacket is always a fashion classic. You can invest in a vintage piece for yourself instead of buying a new one.
Vintage T-Shirts You know, one of those with the logos of rock'n'roll bands on them. Camille Rowe told in an interview that she was collecting vintage t-shirts from every country she went to. It's a great start to step into the world of vintage.
Denim While denim, another fashion classic, is in the form of jackets or trousers, you can still find the best models in vintage boutiques. The Levis 501s I bought years ago from Berlin attract people's attention every time I wear them. Give your denim vintage pieces a try.
Iconic bags The topic of bags is perhaps one of the most preferred in this world. The thing you need to pay attention to here is that the originality of the bag is proved to you. Sometimes you can find a really special piece from vintage boutiques that you cannot afford.
BEST VINTAGE POINTS:
Fey @fey_istanbul The shop of Fatoş Yalın, one of the most iconic names in Turkish fashion history, in Nişantaşı. The crowded and cramped feel in classic vintage boutiques is absent here. The products that you will discover in a more minimal and classy way are formed by Yalın's meticulously gathering what he collected from his overseas travels like a curator.
Synthetic Caesar @sentetiksezarmoda The vintage adventure Derya Gültekin and Yılmaz Ordukaya started online with Facebook turns into a store thanks to the interest they receive. If you want a real touch of retro in your wardrobe, be sure to check out their products. They are also very good at accessories and bags.
Original Seconds @original_seconds Original Seconds, one of Turkey's oldest vintage stores, was founded in 2005 by two women entrepreneurs. They believe in the philosophy of "Fashion comes back as it goes", they say "Quality never goes out of fashion".
Nillush Vintage @nillushvintage A place that thinks vintage is more than just a clothing trend and a way of life and reflects this on all selected products. A store full of items that have been collected from various parts of the world over the years. A large part of the collection consists of clothes that can be worn comfortably today. In addition, the "costume section", which can be rented for period-themed parties or projects, is also displayed separately.
Mildew Vintage @ kuf.vintage Interpreting iconic pieces of the past with its unique style, Küf Vintage addresses to extraordinary, original and stylish people who are tired of wearing uniform. The selection of the brand, which has a store in Izmir, is on sale both online and in Beymen.
Seasons & Stories @seasonsandstories A brand that advocates sustainable fashion, has good condition, and aims to bring vintage and second-hand fashion accessories to its new owners. Seasons & Stories is a formation that thinks that every accessory that adds value to fashion has a story and moves forward with it. Attention! Here, you can find the Chanel Fall / Winter 1994 collection runway piece a belt, 1980s Yves Saint Laurent necklaces, rare Schiaparelli earrings from the 1940s, or a 1980s Nina Ricci brooch.
Article: Serli Gazer Painter
Photos: Schiaparelli, Getty Images Türkiye
Taken from the issue of ELLE Turkey April 2021.