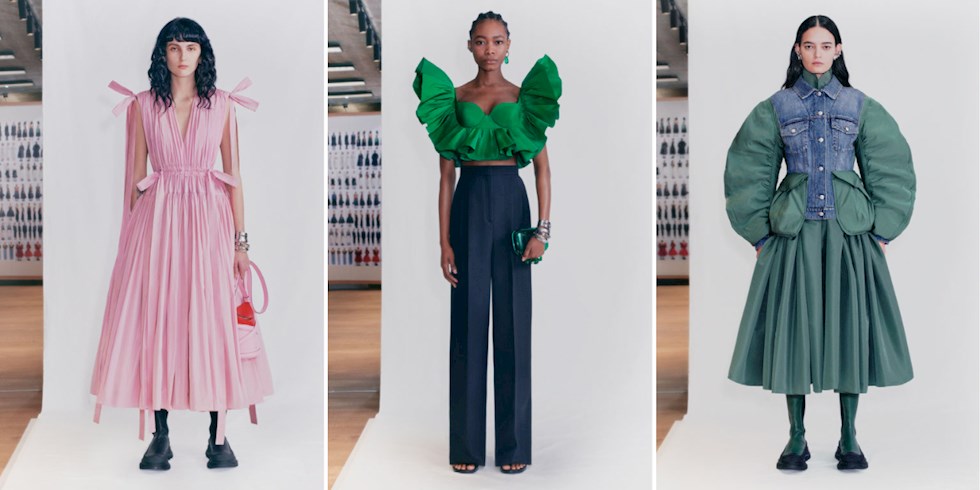 Alexander McQueen introduced the Pre Fall 2021 Collection, where colors, sculptural silhouettes and hybrid designs stand out. In the color palette of the collection enriched with fluffy sleeve details, wide skirts and frills; In addition to pastel tones such as cream, pale blue and pink, blue, green, red, navy blue and black attract attention.
The designs that have become Sarah Burton's signature, combining old and new, tradition and innovation, also emphasize unique craftsmanship and flawless craftsmanship. V-neck belted long dresses, masculine suits and outerwear, corset-shaped designs, the signature of the fashion house, hybrid fabric uses such as wool, denim and satin, and graphic prints have a wide place in the collection.
Curve Bag maintains its claim with its two-color model that brings together pink and red tones, and a three-color model that brings together black, ivory and green, in addition to its updated new colors in the Pre Fall 2021 Collection. While the Short Story Bag greets the season with its eye-catching ivory color and khaki model with black leather details; Jeweled Satchel Bag raises the romance of the season with its love bird patterned model in addition to red and navy blue.
Wandler Chelsea boots and Wandler Loafers with their expanding rubber soles, Tread Slick Boots extending to the knee, Tread Sandals with black and green bands, are among the most important complements of the collection with their comfort-oriented designs.
World-famous British fashion brand Alexander McQueen's Pre Fall 2021 collection meets fashion enthusiasts exclusively at Alexander McQueen Zorlu Center, BEYMEN's and www.beymen.com.