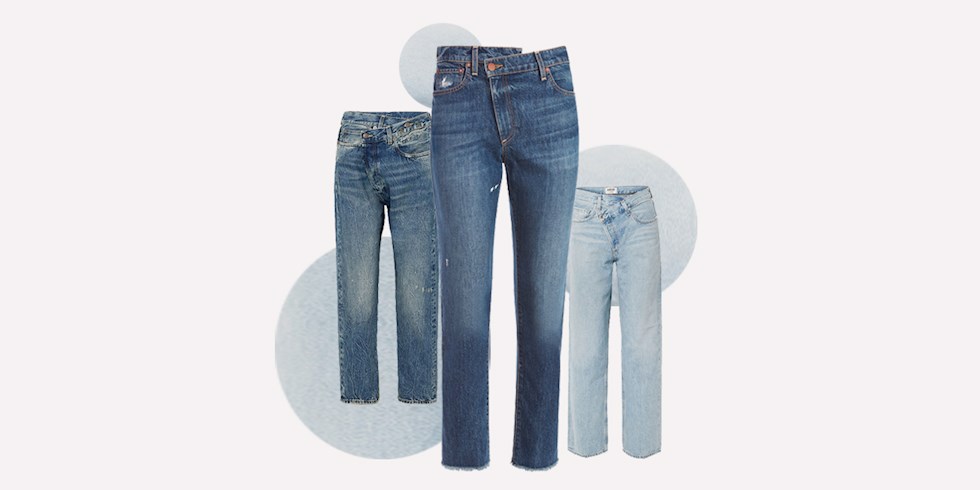 We encounter new jean trends from time to time. "Fortunately, the skinny jean trend of the early 2010s has come to an end!" The comfortable and loose-cut jeans that make you think, changed our perspective on denim fabric. Following the denim tights and super-conjoined jean trends, straight cuts, boyfriend waist and loose-fitting jeans in the style of tracksuits have become our favorites. Now, we see different micro-trends within these comfortable and loose fit trends. Following the double-color and asymmetrical leg details we have seen in the previous seasons, there is a new eccentric detail trend: Cross-waisted jeans!
Straight cuts are at the top of the timeless jean trends, we accept! However, from time to time, we like to focus on different details. When it comes to embroideries, patches, patterns, our new micro-trend detail, which is under the spotlight in 2021, is asymmetrical waist details. Asymmetrical cuts, which were seen everywhere from dresses to blouses in previous seasons, are now among the jean trends. The asymmetrical waist, which adds a little touch to the classic jean style, makes you look extra 'cool'. These 'criss-cross' details, which we see especially in loose and medium-waisted jeans, create a 'statement' even in your simplest outfit. We can say that jeans with asymmetric waist detail, which offer a cool style without sacrificing your comfort, complemented with white t-shirts, oversized jackets and sneakers, can be called the first eccentric trend of the new year.
If we had seen these asymmetrical detailed jeans, which consist of folded jean waist or mismatched waist, we could call it 'faulty'! But nowadays everything in fashion is so unexpected. While many things that we used to perceive as ugly become ultra-trends, these mismatched waistbands have the same effect. It turns into a remarkable 'statement' piece with its mismatched waist details, asymmetrical cuts and eccentric button forms that offer a contemporary art effect.
If you are ready to start the new year with a new trend, you can see the cross-waisted jeans we have chosen for you in the photo gallery.