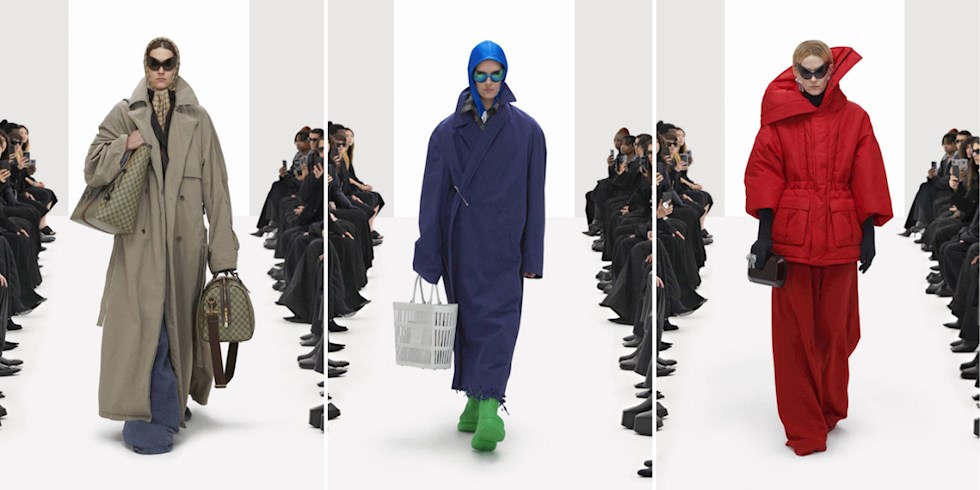 Demna Gvasalia takes us to an alternate universe filled with "Clones of Balenciaga" for Spring-Summer 2021; it makes us question what is really real and fake in this digital age.
Did the show really happen? As a matter of fact, it was made completely simulated due to the power of technological advancement of complex machines. As fashion continues to experiment with video runway presentations, considerations of fashion and technology have captured our imaginations.
Producer Quentin Deronzier's Gvasalia used techniques such as photogrammetry, 3D modelling, rotoscope, and planar tracking for the fashion show. Eliza Douglas was the only model in the entire show. Since the show was a CGI production, all the models were clones of it. Douglas' face has been seen in other mock models wearing genuine Balenciaga clothing, such as a Simpsons graphic sweatshirt, cyber gothic style raver pants, and skirts embellished with metal rings.
Gvasalia brings back the viral 2018 Crocs collaboration with another Balenciaga X Crocs rendition. Famous ugly shoes are unisex, rubbery and comfortable. Platform Clogs in 2018 were one of the hottest products of the year, causing a viral obsession around the luxury normcore collaboration. It's no surprise that the creative director returned to Balenciaga because of his fascination with the shoe's modernist design. But Balenciaga is changing the classic shoe model for this season; adds stiletto heels and knee-high boots.
Balenciaga uses details on handbags, baseball caps and belt buckles that show its continued collaboration with Italian luxury brand Gucci. The controversial Hacker Project returns in collaboration with Gucci Creative Director Alessandro Michele; Like the previous Gucci Aria collection, it combines to further explore the ideas behind authenticity, imitation and ownership in the fashion industry. Some accessories transform Rene Magritte's famous 1929 "This is Not a Pipe" line into a trendy interpretation with the phrase "This Is Not a Gucci Bag".