This season we have to talk about bag water bottles, flasks and thermoses! You ask why? Because we are faced with the most thoughtful trend of recent years. When we say accessories, the first thing that comes to mind is bags, sunglasses, card holders or jewelry… The situation is very different in the spring 2021 season! When we say 'it-accessory' this season, we see colorful thermoses and water bottle bags. Designers, who had to take their creativity one level higher with the pandemic, discovered brand new display methods and tried to stand out with their different styles. I think the common idea of ​​many brands is that water bottles and thermoses are the most stylish accessories.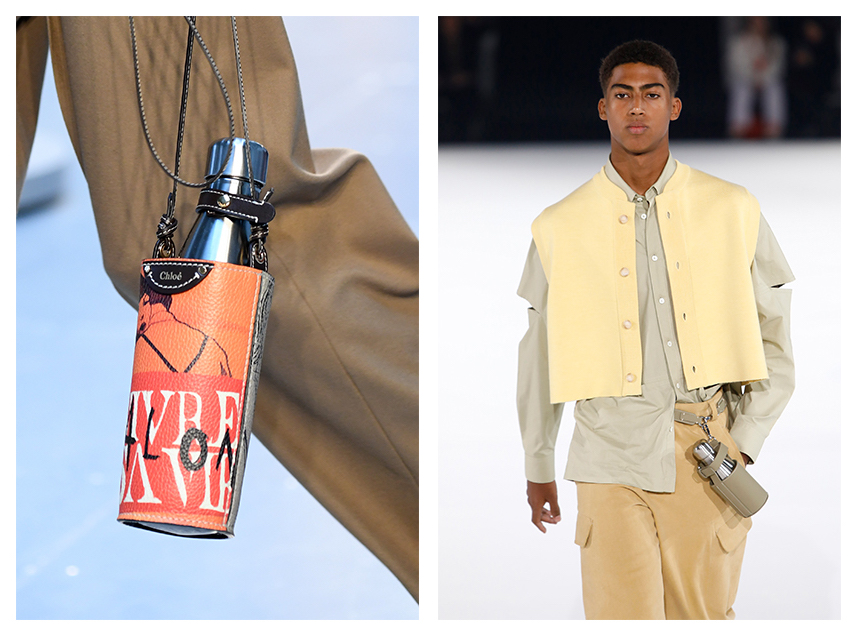 Chloe and Jacquemus Fall Winter 2020/2021 Fashion Shows (Getty Images)
Being sustainable is one of the most important issues on the fashion agenda. How can a brand be sustainable, how consumers become more environmentally conscious or more thoughtful in production processes… The answer to this question is not just to use recycled materials! Many items such as ethical work environment, gender equality, labor rights, energy consumption, environmentally friendly materials and waste in the production process affect being completely sustainable. In addition to wearing recycled designs, we can also contribute to the environment through our lifestyle. You can choose thermos instead of the cardboard cup coffee you buy while going to the office, and you can reduce the amount of waste in the environment with a water bottle that you can always use instead of plastic water bottles. The saying, "Even one person can make a difference," which is always said and is now a cliché is very true. Considering that the average person uses 200 plastic water bottles a year, you can really make a difference if you change your daily habits!
The fashion industry, which makes being environmentally friendly and thoughtful, is putting water bottle bags and thermos in the spotlight. Thermos and flasks, the long-lasting and super cool alternative of disposable cardboard cups and plastic water bottles, not only change your lifestyle but also your style. The 'statement' piece of the season, these bag flasks, colored water bottles and thermos with stones turn into an eye-catching accessory. The water bottle trend we see in the Spring 2021 collections of many brands such as Fendi, Marine Serre, Alyx, Givenchy, Chloe and Jacquemus ensures that you do not forget your daily water consumption and also be sensitive.

Marine Serre, Collina Strada, 1017 Alyx 9SM, Fendi Spring Summer 2021 Collections (Marine Serre, Collina Strada, 1017 Alyx 9SM, Fendi)
The thermos and flask trend, which also matches the camping and outdoor theme of the season, is among the indispensable elements of the 'outdoor' style. Flasks, which are an integral part of the camping-inspired styles we see on Instagram and catwalks, are a trend motivation for hiking and trekking activities. The designs evoking the spirit of free camping with stone bottles and 'glamping' steel flasks bring together many themes. Whether in the city, at the camp, at the office or at home… The indispensable elements of this season (and hopefully every season) are long-lasting thermoses and flasks!
You can examine the flasks, thermos and water bottle bag models we have chosen for you in the photo gallery.