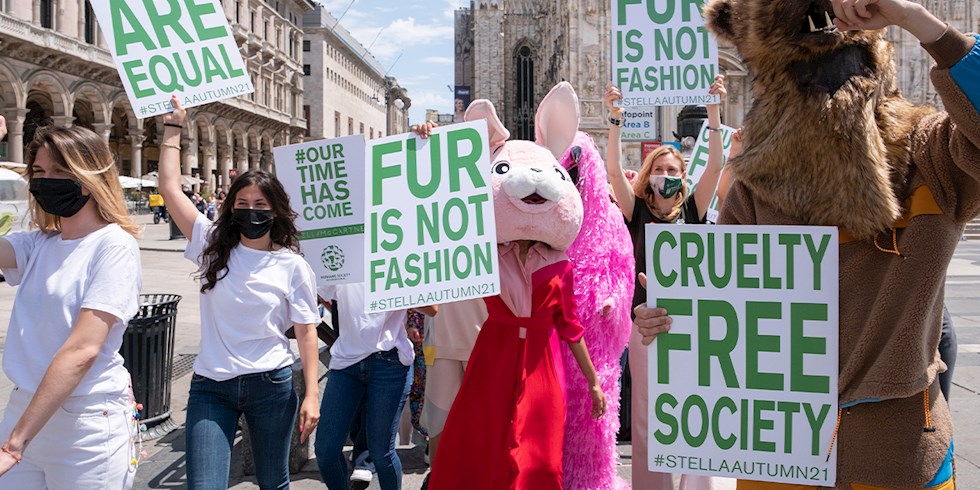 Stella McCartney's fight to stop global fur farming continues. Many celebrities also participated in McCartney's campaign, who wanted to start with a ban on fur sales in England. McCartney, who started an interesting protest with the Autumn 2021 campaign called 'Our Time Has Come', shot by Mert Alas and Marcus Piggott at Piccadilly Circus in London, shared on Instagram by wearing a bunny costume.
Many celebrities accompanied McCartney, who invited his followers and followers on Instagram to sign the Humane Society's petition to ban fur sales in England. This campaign, which took to the streets with his father Paul McCartney and his photographer brother Mery McCartney, attracted attention on social media. Wearing a huge beige bunny head just like his daughter, Paul McCartney was included in his daughter's video, writing "No animal should worry about losing its fur" and inviting his Twitter followers to help create a "cruel free society".
In addition to the McCartney family, actress Judi Denchy in a bird costume, singer Leona Lewis, actors Nathalie Emmanuel, Maggie Q, Kat Graham and Rain Phoenix, influencer Aailyah Ramsey, model Ariish, photographer Megan Winstone and activists Jack Harries and Ed Winters also supported this campaign. they stated.
Stella McCartney, who supported the organization of an unexpected protest in London in the past weeks, said, "No more fur!" at Piccadilly Circus with the rabbit costumes in the campaign. He walked with slogans. One of the leading luxury fashion brands of the global anti-fur movement, Stella McCartney maintains an entirely environmentally oriented ideology both in her company and in her life.
"Stella McCartney's new campaign and brand is everything the fur trade isn't – fresh, innovative, sustainable and cruelty-free. That's why we're excited to work with him and enlist the support of many thoughtful celebrities to amplify the message that the era of fur fashion is dead," said Claire Bass, Managing Director of the Human Society. The campaign sheds light on a serious issue," he added.