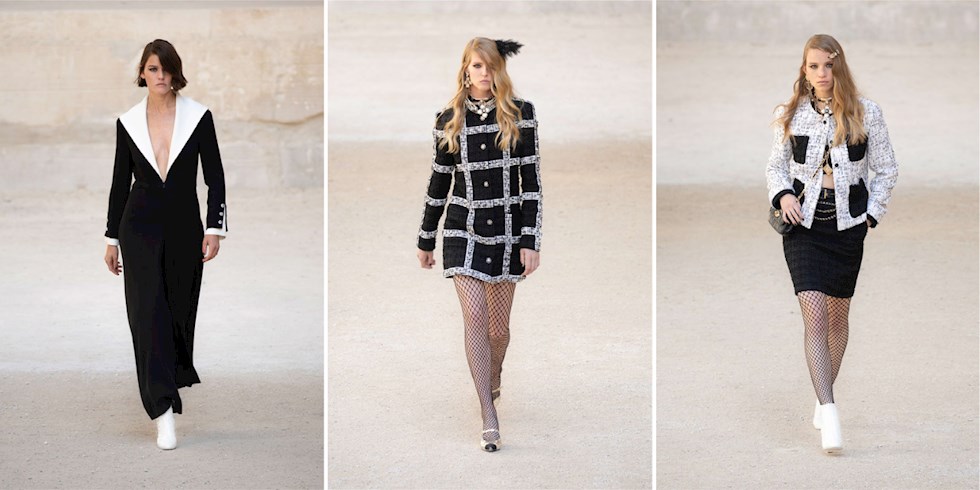 Resort fashion show period started, and Chanel opened it. Brands and designers generally preferred exotic locations, maximalist décors and huge catwalks all over the world for their Cruise / Resort collections. However, over time, especially with the pandemic, these shows started to take place in digital channels, with virtual front rows. While fashion weeks are in search of the line between virtual and reality, designers continue to be innovative in introducing new collections.
We think that the Resort 2022 season will reflect this effect as many countries around the world are slowly starting to normalize. Cruise series, which started with Chanel, gave us the signals that this season will be very interesting. The Chanel Cruise fashion show, which was shown with the songs of the indispensable French musicals Vanessa Paradis, Charlotte Casiraghi and Angèle, was a tribute to the artist Jean Cocteau.
Virginie Viard, Creative Director of Chanel, emphasized that the inspiration source of the new collection, which represents the meeting of the most French brand and the most French artist, is very evident: "Because Gabrielle Chanel was very close with Cocteau and I love the movie 'Testament of Orpheus'. Especially this magnificent scene: a man with a black horse head lands on Carrières de Lumières, his silhouette reflected on the white walls.
The fashion show, which took place without the famous caravan we are used to seeing in Chanel fashion shows due to the pandemic, took place at Carrières de Lumières in Les Baux-de-Provence. We can say that the Cruise 2021/2022 collection, which turned into the most classic of the fashion house, was a celebration of black and white. "The simplicity, precision and poetry of Cocteau's film made me want to create a very clean and simple collection," said Viard, who also did not hesitate to create classic rock'n'roll nostalgia after sharp-edged suits, long dresses and must-have tweed. "I also wanted to make rock-inspired designs with tassels, leather, beads, sequins and T-shirts with the face of model Lola Nicon," Viard said, creating a multi-city Cruise collection by the seaside with free 60s and punk 80s.