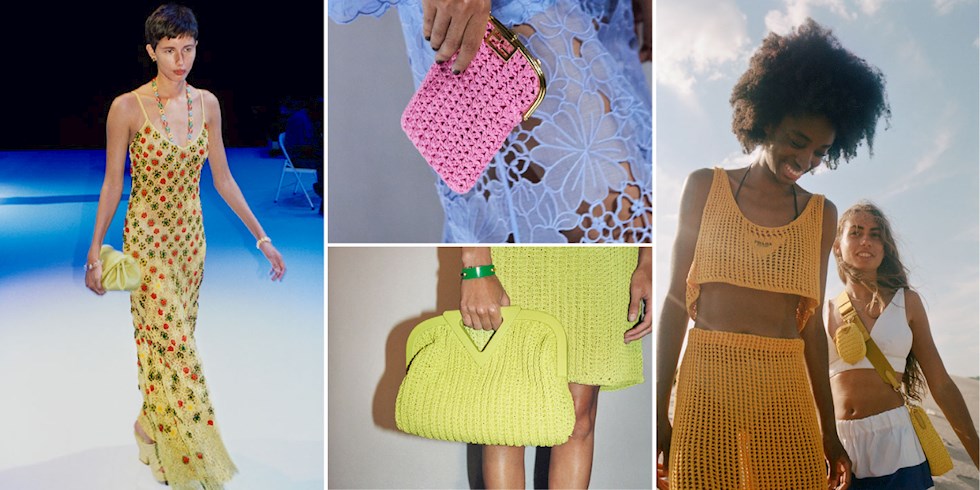 One of our favorite trends of the season, supporting creativity and recycling; crochet or crochet pieces… Thanks to the pandemic, we have seen a rise in handmade in the fashion world as well, which has brought along this renewed interest in crochet.
It cannot be denied that the meaning of the word "dress up" has changed for all of us. You may be dying to refresh your wardrobe with bright colors, fun textures, and feel-good pieces. On the other hand, thoughts such as returning to nature and supporting recycling are intertwined with our sense of fashion. This being the case, modest hand knits shaped first the catwalks and then the street fashion. Of course, crochet is nothing new; It was on the trends radar last year, but now extraordinary creativity is back.
Crochet had its heyday in the 70s with style icon Cher. Today, it has managed to become a trend that style icons admire.
This season, we see plenty of crocheted pieces, from bold to simple, that will fit perfectly with the sunny days ahead. In the Spring/Summer 2021 fashion world, the main trend is crochet, as seen in Prada, Fendi and Bottega Veneta… When the world is so heavy but there is plenty of optimism for the future; It's the perfect moment to try the colorful and extraordinary styles of the fashion world…
Rihanna is one of those who prefer a sexy crochet dress…
The free-spirited child of fashion, crocheted pieces have also taken over the Instagram fashion…

To start slow, you can opt for crochet bags that will pair perfectly with your favorite summer dresses. If you're not sure if this look is for you, start with a colorful crochet top or accessory. A crochet cardigan can be your perfect accompaniment in light evening summer breezes; You can try to combine it with a slip dress or a bustier.
It's time to find the crochet bag that your grandmother hid in the attic… That bag you thought was out of date is a clue to be cool this season… The increase in popularity and options of crochet styles has given crochet bags a catwalk-approved status.
If you are ready to continue the crochet game; try skirts, shorts or dresses. A crochet suit or a long dress can be a bold but very cool step. A white crochet dress can be a candidate to be your indispensable summer piece, as the style options are endless and so easy. You can wear it alone for a minimal look, and you can choose colorful large jewelry for a lively look. By choosing flat or heeled slippers, you can get a wonderful summer look. It is possible to go anywhere you want with crochet trousers that you will combine with a white t-shirt. You can create your summer style with high waisted trousers or skirts and crochet short tops.
Accessories such as hats and belts can add another dimension to crochet and add a cozy touch to your look.
At first glance it may seem too bohemian. We used to say so, but this season, we come across modern looks. Sophisticated bustiers, straight trousers, minimal skirts and summer-like bikinis play the leading role in creating modern silhouettes. Inspired by the colorful and hippie fashion of the 70s, the crochets make you feel both sexy and dreamy. That's why crochet pieces can be the perfect choice for your holidays in Ibiza or Mykonos.
Kylie Jenner is also one of those who love crochet fashion… The photo she shared with her crocheted bikini was very popular and the brand's bikini sold out in a short time.

BONUS: Chiara Ferragni's little son seems to like this trend too.

25 CROCHET PIECES CELEBRATING CREATIVITY
Don't forget to check out our gallery of new season pieces to help your crochet look and inspire your imagination.