Creative Director Maria Grazia Chiuri takes her French home on a stylish trip to Greece. Dior Resort 2022 collection makes us want to prepare our bags with the whole collection and buy a one-way ticket to Greece.
The Dior Cruise 2022 show was presented in the heart of Athens' Panathenaic Stadium, an ancient treasure also known as Kallimármaro. With its majestic volumes, this emblematic space combines the power of heritage with contemporary creativity to offer an extraordinary décor that perfectly matches the inspirations of the collection.
Displayed opposite Athens' Panathenaic Stadium with its temples of the Acropolis and Parthenon towering in the distance, the collection is inspired by Greece and concludes with the perfect summer ode to Hellenic history. From flowing white dresses to sailor trouser suits, where local talent and craftsmanship come to the fore, they create a slightly elegant beach style from time to time.
A series of photographs by Monsieur Dior of haute couture pieces taken near the iconic Parthenon in 1951 served as the inspiration for the Dior cruise 2022 collection. In the heart of the city dedicated to Athena, Maria Grazia Chiuri reinvents and changes codes; Art lies not in the created object, but in one's ability to create. Reminiscent of the goddess in the collection, the tunics are inspired by marble and ancient sculptures with their fabrics and handmade pleats.
Dior's Creative Director, Maria Grazia Chiuri, is the first woman to head the fashion house and leads with a feminine glow that continues to be seen in her work. For this collection, Chiuri aimed to create a collection that celebrates what it means to be a woman. To do this, she traveled all over Greece to research and uncover the contributions of women over time. He visited the Bronze Age ruins of the Palace of Knossos and the Archaeological Museum of Heraklion on the island of Crete, the ruins of Akrotiri in Santorini and Delphi, to note and honor the importance of women throughout history. With each piece of this collection, you can imagine the Greek goddess Hera walking around…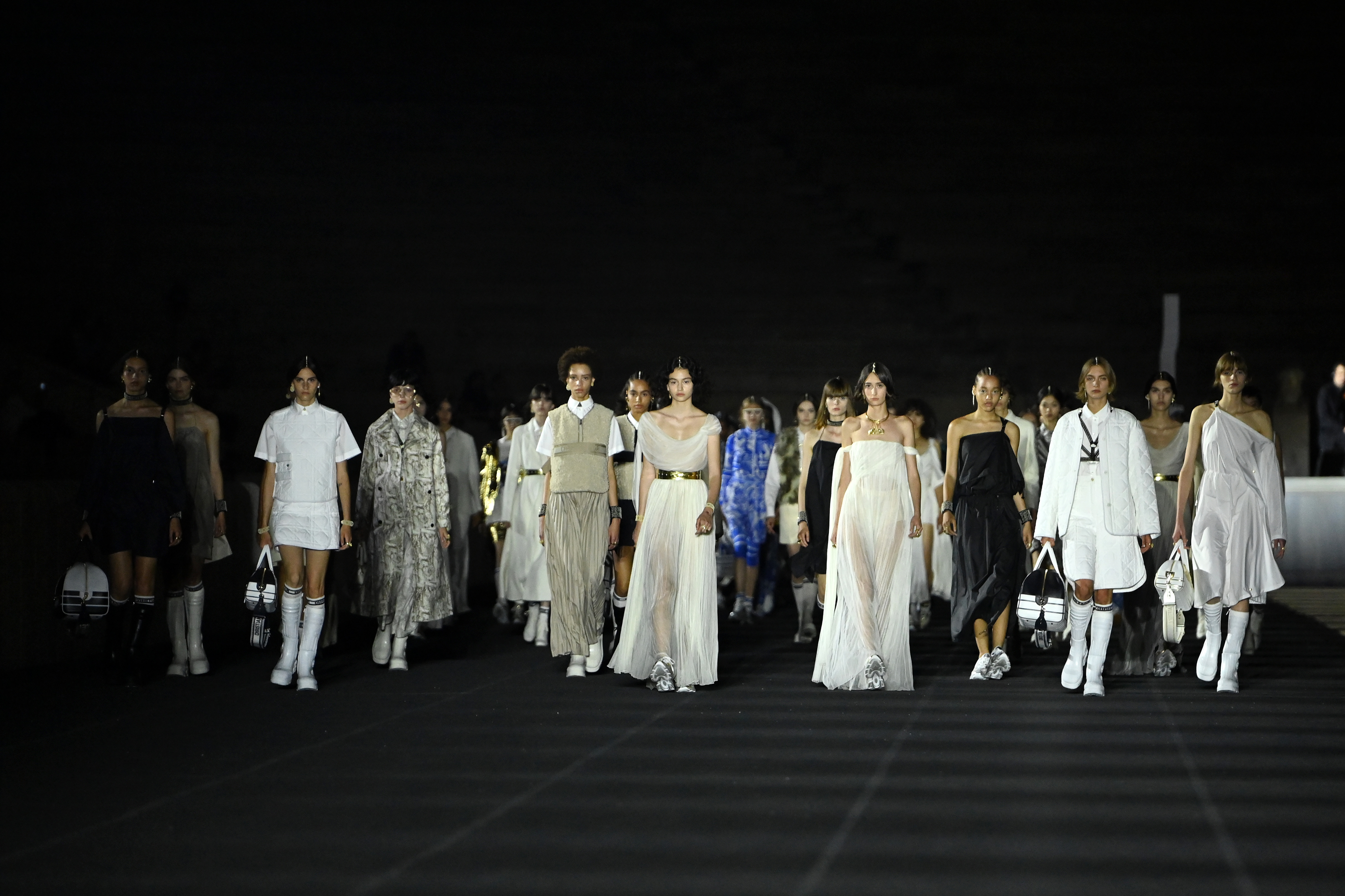 Feminine, delicate and airy dresses, from strapless to off-the-shoulder necklines, allow us to imagine ourselves tanning on the beaches of Santorini. The collection consists of bold bursts of blue, whites and neutral colors reminiscent of Greece. He takes us from a day at the beach to an afternoon cruise, dinner and a night out. The last dress of the collection seems to have been inspired by a swan that perfectly represents the beauty and elegance of these pieces at all times.