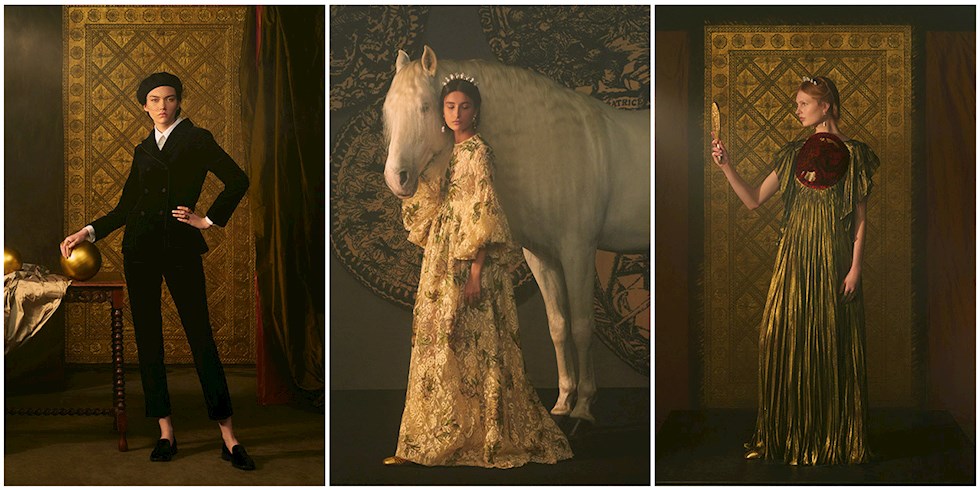 Christian Dior was passionate about divinatory arts and signs of destiny. In his autobiography, Dior describes the often fateful encounters with visionary personalities, "It will be extraordinary. Your brand will revolutionize fashion! " He said he remembered what he said.
Tarot cards, which are among the keys to accessing the magical realm and discovering the unknown while looking deeply without fear, also inspire Maria Grazia Chiuri. Quickly establishing a connection with these imaginary worlds and visual language whose symbolic lexicon is rich in complex and fascinating characters, Chiuri, with the desire to reconnect with the spirit of the world, through the Spring Summer 2021 haute couture collection, presents the mystery and pluralistic beauty of tarot with a series of dresses with virtuoso structures. discovers. Proving that Couture continues to be the ultimate field of experiment and possibility, the new collection is inspired by magical worlds.
While some of the extraordinary evening dresses with abstract structures are designed with illustrations by Pietro Ruffo, with this spirit, the Roman artist creates a single deck of cards where the characters and symbols unleash their graphic energy. Alongside the Dior gray seen on tweed, cashmere and organza shirts, skirts, trousers and capes, the Bar jacket is designed with black velvet and shows the curves of the body in a new manner.
Haute couture designs, staged in collaboration with one of Italy's highest profile directors, Matteo Garrone, create a pleasant iconography by taking advantage of the visual power of the Visconti-Sforza tarot. Decorated by Bonifacio Bembo, illuminating for the Duke of Milan in the 15th century, this Tarot deck tells the fabulous story of the collection. Decorated with gold, enamels and geometric lace, these cards represent a serious and enigmatic entity that reveals an inner journey like the adventure of self-discovery. Journey to the heart of a castle filled with character that represents great secrets that invite, question and confuse the viewer to see the world from a new perspective! According to the director's interpretation, this search transcends gender boundaries and offers a masculine and feminine synthesis in a new dynastic mythology that evokes the magical worlds that Matteo Garrone loved.
As an intuitive insight, the collection asks you to choose a card from this deck representing a catalog of possibilities and explore endlessly. The High Priestess, Empress, Justice and Fool cards are glorified by the perfection of the savoir-faire celebrating the art of weaving: lace is embroidered with hand-painted ornaments, gold velvets come alive with zodiac signs, precious jacquards embellished with stars, and a cape with multicolored feathers showcases 3D voluminous shapes.
In this story, the insider always needs the feminine complement, and vice versa, because only such a fusion makes it possible to approach the formative pathway that appears to self-awareness. As Italo Calvino put it in 'The Castle of Crossed Destinies': "The world should be read upside down."