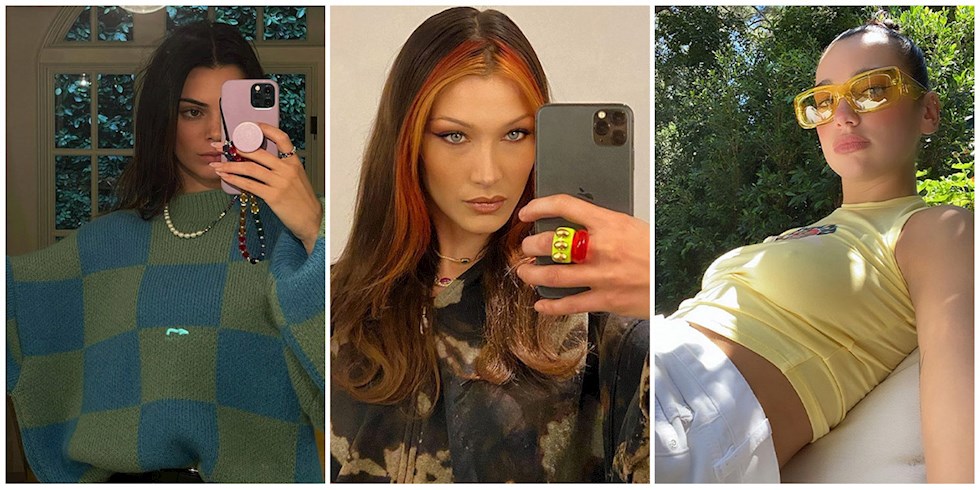 We don't know about our favorite celebrities when it comes to accessories! Celebrity styles, which proceed in a separate lane from the trends on the catwalk, can be determined by both Instagram and street fashion. Celebrities, who have been focusing on Instagram and street styles for a while with their absence on the red carpet, are more and more in 'trendsetter' mode! Stars such as Dua Lipa, Kendall Jenner, Bella Hadid and Elsa Hosk stand out in accessory trends, as well as Hailey Bieber, who is a favorite of Instagram fashion review pages with her street style.
In particular, you can clearly see that Bella Hadid's accessories have influenced the collections of the brands! Hadid, who shared a selfie with her huge colorful rings on her Instagram page a few months ago, maybe changed the trend of the whole season. Now everywhere we look, we see huge and childlike rings. Or the beaded phone straps of Dua Lipa and Kendall Jenner… Now even our phones have their own jewelry collection thanks to celebrities!
If you're asking how celebrities are doing this with different styles with little touches, our answer is definitely fun and eccentric accessories! We do not lag behind the world of Hollywood with accessories inspired by famous styles, which are quickly taking their place in internet boutiques and stores.
If you are ready to add color to your life and accessory collection, you can view the favorite accessories of the stars in the photo gallery.