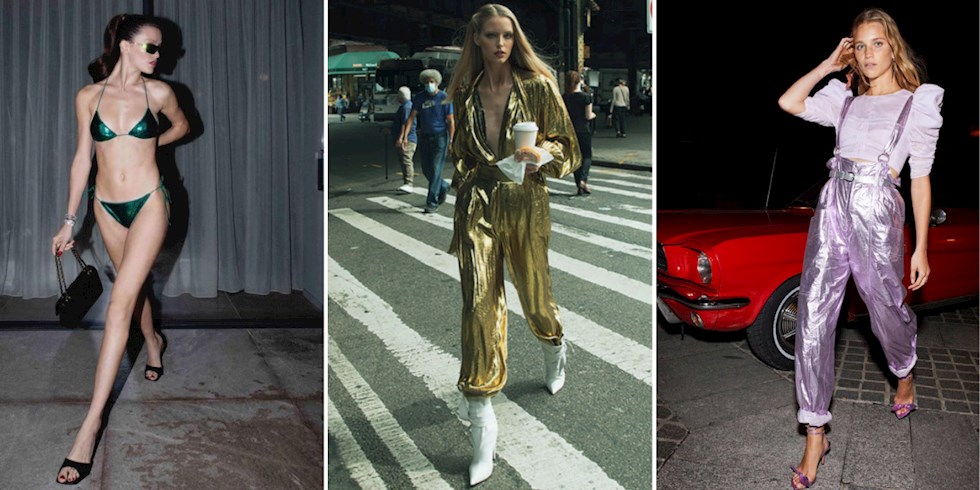 After a year spent keeping social distance with our wardrobe, it's time to shine freely! That's exactly why, as the temperature rises this summer, so does the brightness. In this celebratory season, designers do not hesitate to add bright touches to their collections. Street fashion, which we miss, also supports the glittering world created by designers with great praise.
After the neon colors and puffy sleeves of the 80s, metallics are making a comeback in the summer of 2021.
Whether you've reserved your brightest pieces for a night out or special occasion, it's time to embrace your inner disco girl any time of the day. Metallic clothing, don't be intimidating. The easiest way to embrace all that brilliance is to balance it with neutrals and solid-colored classics. Try a metallic dress with a pair of pink metallic heels or neutral sandals with your casual jeans. You can be inspired by how icons are adapting the '80s trend for 2021.
Celebrities like Kim Kardashian, Rihanna and Kylie Jenner, of course, have already tried the metallic trend…
You can always start with shoes and accessories to try trends. Metallic slippers, sandals, heels or bags can be the best ways to try this trend. Those who do not like games in their clothes will prefer this look.
The way to apply the trend feminine is the look you will create with a mini metallic dress. Our suggestion is to focus on a single point with a neutral colored single strap heel and a mini bag…
Suits, one of the most popular and beloved trends of summer, are also affected by the metallic trend. Those who want a bold and assertive look can opt for metallic suits.
For a sporty yet stylish look, you can try a metallic high waist skirt, white t-shirt, sneakers and sunglasses. By throwing the sunglasses in the bag and replacing the sneakers with high-heeled sandals, you adapt your look to the night.
You can make a strong statement with a metallic trousers or shorts. Short tops and sandals will help complete the look.

Metallic bikinis and swimsuits are the hottest way to apply this trend… Metallics are not limited to clothes and accessories, they are also taking over the beach fashion. Combining the warmth of the sun with the brightness of the metallics, the beaches are filled with bold excitement.
Don't forget to check out the shiny metallic pieces of the season…