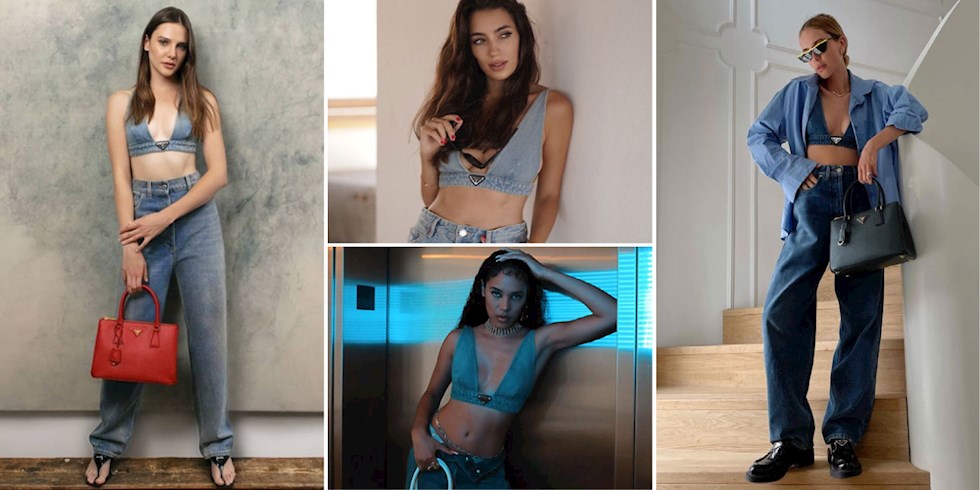 Prada's instantly classic denim bralette has been a huge trend success with impressive posts by popular Instagram girls like Emily Ratajkowski, Amina Muaddi, Alina Boz, Rachel Araz, Pernille Teisbaek.
The Prada monogrammed cropped denim top nods to the head-to-toe denim trend, especially paired with high waist jeans.
The Italian brand's bralette is part of its sustainable clothing collection, in which denim is the leading role. Since approximately 3,000 liters of water are required to produce one pair of jeans, jeans are one of the most environmentally damaging fabrics. However, Prada has done its part to try to reduce this impact by using cotton certified by the Global Organic Textile Standard and resorting to the "Acquasave" process to reduce the water footprint produced by this process. The result was a utilitarian yet elegant collection, including high-waisted baggy jeans, shirt dresses, two-piece suits and even bralettes. Its seams are made using recycled nylon thread, which has 90% less environmental impact than virgin nylon.
The Prada Denim Bralet, which we first saw on Emily Ratajkowski, has become a favorite of the cool girls on Instagram. Many it-girls are sharing pictures of them in Prada's Denim Bralet. We chose our favourites, don't forget to review.