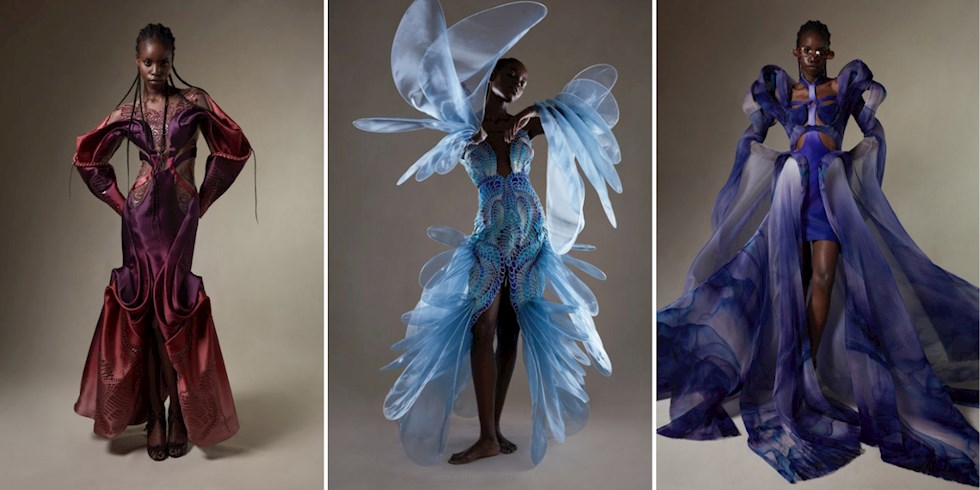 Iris Van Herpen Haute Couture 2021 Autumn Winter Collection was showcased as part of Paris Fashion Week on July 5th. After six months of intricate craftsmanship, dedication and innovation, the brand is excited to share the new vision with its new Haute Couture collection.
The collection, called "Earthrise", emerged from months of intricate craftsmanship, dedication and adventurism.
Van Herpen is always questioning what couture could be, including suggesting that 3D printing could be as unique as a hand-sewn garment. She has formed an alliance with science and regularly works with people outside the fashion industry to bring new perspectives to the fashion industry.
Fascinated by the seductive ancient human dream of flying, 'Earthrise' collaborated with world champion female parachutist Domitille Kiger. Domitille parachuted several times in his 'Earthrise' dress in Bassin d'Arcachon, France.
Promoting adventurous athleticism and fearlessness in this collection, Iris van Herpen brings these polar disciplines together. Haute Couture and skydiving alike embody the symbolism of traditional flying. The starting point is "Leaving aside everything that keeps you on the ground."
Flying in the wide sky from the age of 15, the designer was fascinated by the choreographic performance of his art, combining the two opposing worlds of art and science. The 19 looks in this collection describe the cyclical processes that initiate change in our sensitive world, weaving a symbiotic thread between artisanal tailoring and organic craftsmanship, derived from the perception of our world as a single living and breathing organism.
Kiger's graceful skydiving embodies a new meaning of earthly freedom, dispelling all fear in a spirit of transcendence. Thanks to extreme speed and Kiger's choreography during the skydiving, the custom Haute Couture gown reveals the turbulence of intricate craftsmanship. Encouraging adventurous athleticism and fearlessness in this collection, the finale is paradoxically a meditative moment, depicting a single person floating through space, combining elements of dance, exploration and innovative mind through skydiving. The ultimate sophistication, softness and refinement of Haute Couture combine for the first time with the extreme sport of skydiving.
The collection does not ignore the worldly situation; There are 18 skins for those who only dream of flying. Van Hepen continued his collaboration with Parley for the Oceans this season, meaning most of the materials he uses are made from recycled plastic. The designer has worked with several artists, including James Merry for face jewelry and Rogan Brown, who creates hand-cut layered sculptures built on natural science illustration. The workshop incorporated elements of its meticulous technique into its processes to create a particularly powerful effect on lace-like white dresses. Van Herpen also developed a sphere-inspired kinetic suit with Casey Curran. "Instead of emphasizing the turbulence of our planets this time around, it's actually more about the butterfly effect, every move you make has an impact on something else… Each sphere is connected, so when one moves, it moves the others, they move in waves."
The designer's transition from micro to macro comes at a time when much of the world is slowly emerging from the home cocoon into a larger world that sadly feels divided rather than unified. Now he needs to focus on interdependence and the big picture. Time to recalibrate.
When you look at the Earth from space, you see a limitless place with no hierarchies and you can actually see that it is a living organism, and it's actually a really old concept called "anima mundi". More and more, even through science, we are beginning to understand that religious thought is truly real, that everything depends on everything."