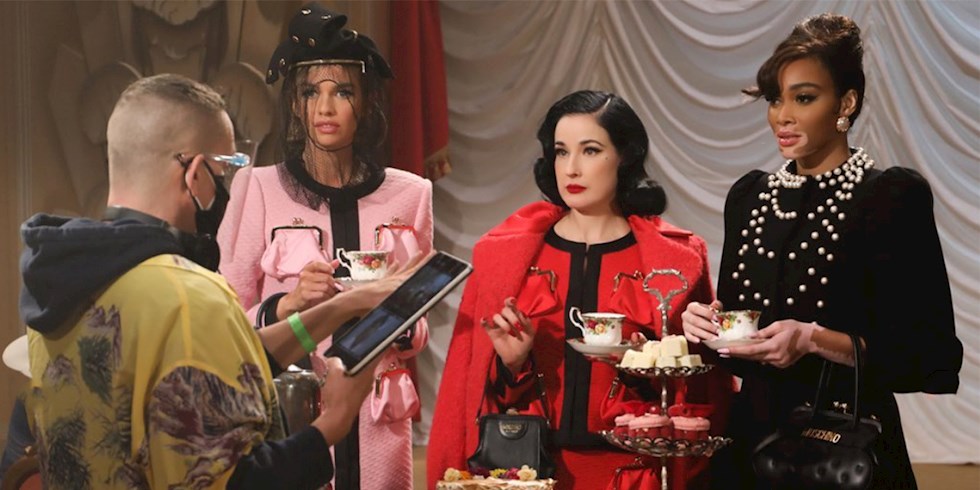 Combining surrealism and fashion with an eccentric style, Jeremy Scott presented a fascinating show with puppets last season. Taking his creativity one level up during the pandemic period, Jeremy Scott designed a completely different show for Moschino's Autumn 2021 collection. Inspired by the classic Hollywood, Scott used George Cukor's 1939 movie 'The Women' for the Moschino fashion show, inspired by a play of the same name. Joan Crawford and Norma Shearer featured in the movie, where men were not seen and talked about very much. While it turns into color images for the fashion show scene in the middle of the black and white movie, it is known that Cukor actually does not like this scene at all and wants to remove it from the movie! The movie 'The Women', showing the work of legendary costume designer Adrian, also inspired Jeremy Scott's Moschino collection 82 years later!
The new Moschino collection named "Jungle Red" refers to the nail polish color used in the movie, while the Autumn 2021 fashion show showed the classic fashion show scene of the movie 'The Women'. The Moschino Fall 2021 collection, which Frank Moschino will be proud of, one of the iconic names of surrelist and eccentric fashion, also highlighted the signature of Jeremy Scott. "Lights! Music, "followed by Scott's fantastic classic Hollywood-inspired fashion show. The models, seen as business people living in the city, started walking on the podium with vintage music and video. Combining classic Hollywood, rural styles and professional fashion, Jeremy Scott has created a great blend.
Just like in the movie 'The Women', Moschino's Autumn 2021 collection also listed all-star models such as Hailey Bieber, Joan Smalls, Precious Lee, Lily Aldridge, Miranda Kerr and Winnie Harlow. At the same time, Dita von Teese was chosen for the finale of the podium featuring unforgettable names such as Karen Elson, Shalom Harlow, Guinivere van Seenus and Carolyn Murphy. Enlivening our fashion weeks at home with his 'Kitsch' but vintage fashion show video, Jeremy Scott showed off fun and creative designs from cow print dresses to tweed jackets, flamingo dress to safari style and even a potato sack.