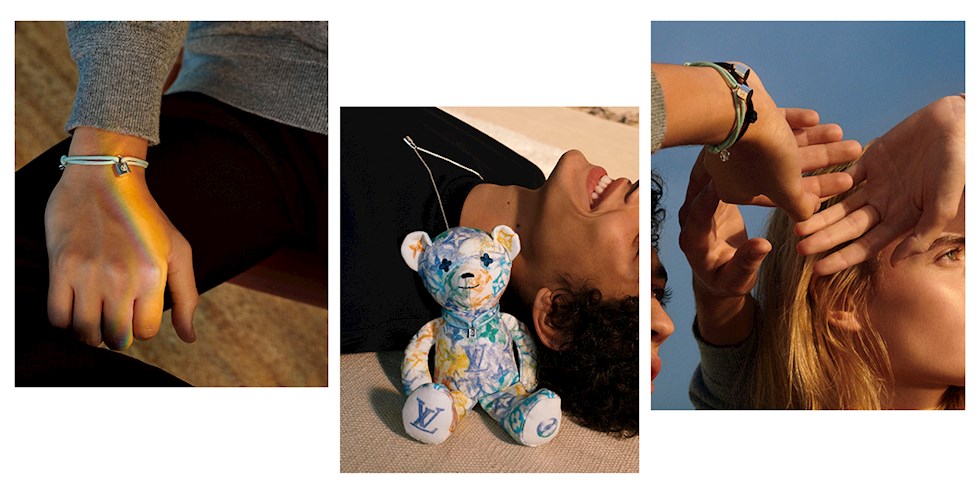 Following the #MAKEAPROMISE campaign, Louis Vuitton continues to collaborate with UNICEF to support and raise awareness for the world's most vulnerable children. Every Silver Lockit and Doudou Louis purchased provides an opportunity to support Unicef's efforts to provide access to water, sanitation, nutrition, education, health and protection services to the most vulnerable children. At the same time, it also enables Unicef ​​to contribute to Covid-19 emergency response efforts, helping them to rebuild a healthy world suitable for every child in this unprecedented global health, economic and social crisis environment.
The new 'Silver Lockit' bracelets with perfect color matching offer pastel blue, light green and black color options. Combining recycled silver and organic cotton for the first time, Silver Lockit bracelets bear the iconic padlock and LV signature circular logo. The teddy bear in rainbow colors consisting of pastel tones appears for the first time in textile format. Doudou Louis, surrounded by Monogram printed fabric produced from organic cotton, draws attention with its Monogram flowered blue eyes.
The 'Silver Lockit' bracelets were offered for sale at Doudou Louis, louisvuitton.com and selected Louis Vuitton stores around the world.