Last year we witnessed a major shift in the list of what couples and guests expect from a wedding. Three days of celebrations abroad were planned with 150 guests at the beginning of 2020. But by the end of the year, weddings and celebrations were being held with 20 close friends and family via Zoom video calls. In the following period, only 10-20 people attended weddings.
As of March 2020, the wedding industry has been severely shaken by the pandemic. Weddings have been drastically scaled down, and many have even been cancelled. After this process, these dark clouds revealed a new trend: Micro weddings.
Born out of necessity (according to government guidelines), micro-weddings—like Princess Beatrice's Wedding—offered couples an opportunity to reconsider what they wanted. Brides and grooms are starting to think about what they find really important on their big day. People were initially forced into the micro wedding format. Now some couples have really started to prefer micro weddings. Couples started to love small weddings when they thought about the details such as keeping the guest list really short and intimate, or being able to wear the wedding dress and groom suit they wanted. They realized what they couldn't do at a bigger wedding.
No matter how small the weddings are in 2021, many new trend details have emerged that will customize and beautify your big day.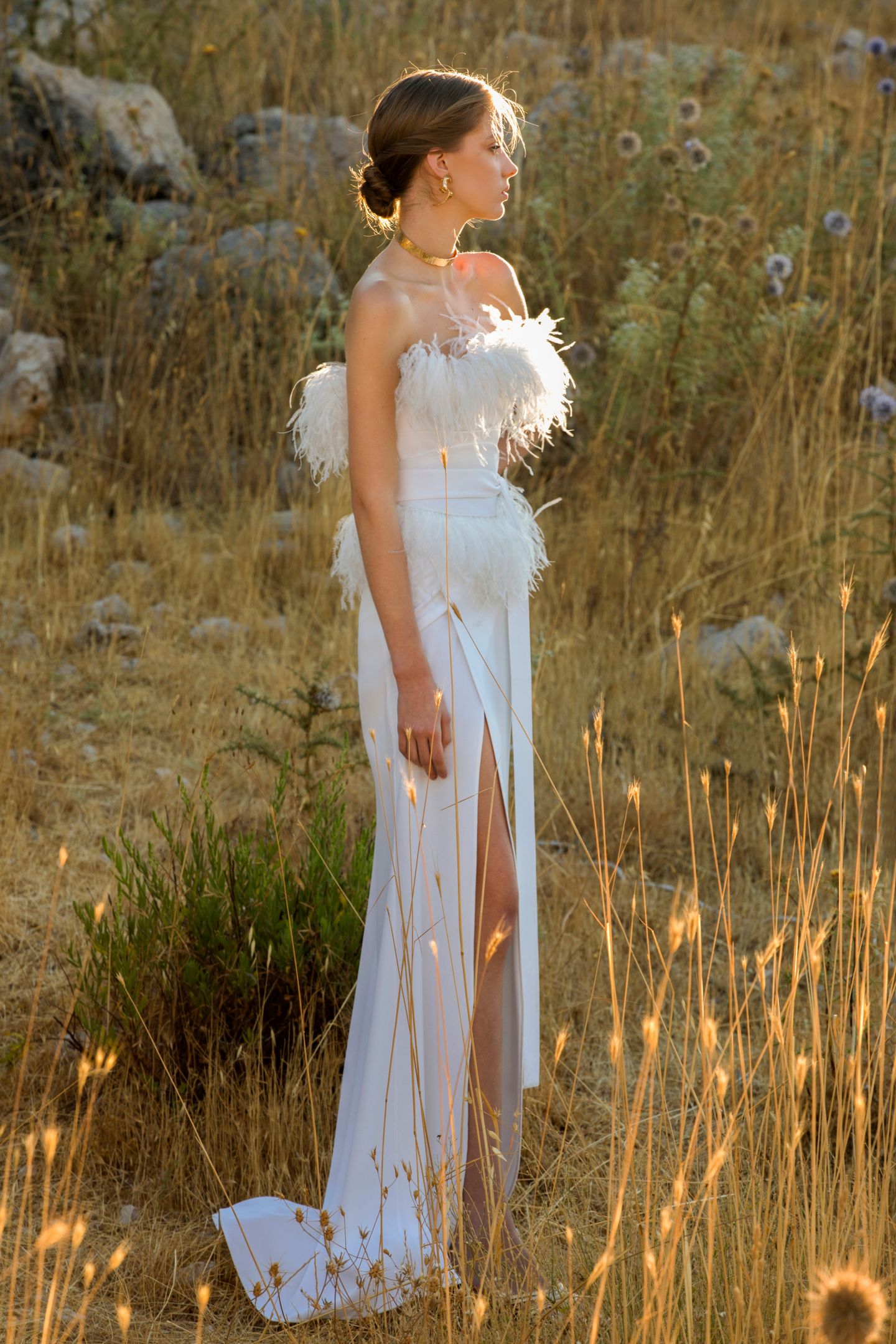 RE-WEAR BRIDALS
Traditionally, wedding dresses are made-to-measure and have a lead time of 8-12 months. In this last year, we learned that things can change completely overnight. And this set the brides in motion; It enabled them to come up with different solutions for the details that had to be planned long in advance. Brides-to-be now prefer to wear any white dress as a wedding dress.
The fast-paced world has taught brides not to rely on custom designs that can take months to complete. And it has led more brides to opt for pieces that require minimal alterations and are ready-to-wear. More brides are now turning to designers who offer stylish, re-wearable and ready-to-wear options, or who can provide much shorter lead times for made-to-order pieces. Brands are starting to shape their collections and production processes according to these conditions.
Gelinlik: Elie Saab Ready-To-Wear
WEDDING HOURS
"Every second on my mind…"
Yes, you read that right… Married couples are now investing in engagement watches. According to research, there is an increase in searches for compatible watches on the Internet. Couples began to prefer compatible watches as a timeless souvenir. Harmonious hours seem to be preparing to be a new but meaningful touch that represents commitment in marriages …
RESTAURANT CELEBRATIONS
A sincere celebration in a beloved venue with a limited number of guests… It was out of the question until the past years, but now it is possible…
Small marriage celebrations were actually an obligation of the pandemic process we were experiencing. But after months of being away from each other, we realized the value of creating precious moments with our closest ones. Therefore, it has become more attractive to organize an intimate lunch or dinner together with or after the wedding.

PAMPER YOUR GUESTS
Soon to be married couples do not hesitate to give little gifts to their friends and families on this special day. Due to the pandemic, new important details such as distributing masks, colognes and disinfectants to guests have occurred. However, couples using their creativity started to create personalized gifts with masks, disinfectants, colognes and memories they wanted to add.
VINTAGE BRIDES
We predicted that vintage and second-hand clothing would be very valuable this year, and we were right. Given sustainability, keeping costs low, and a commitment to memorabilia, it's clear why brides opt for more vintage dresses.
Your wedding is one of the most important days of your life, making it even more special by wearing something worn or gifted by a close family member has been invaluable lately. Brides choose to wear pieces that are their family's legacy for their wedding. Princess Beatrice had a micro-wedding in July 2020 and wore her grandmother's dress slightly altered. Brides like Princess Beatrice want to rework inherited dresses and stay true to their own style while maintaining sentimental value.
FUTURE INSPIRED FROM THE PAST: VINTAGE AGAIN
NATURE FRIENDLY OPTIONS
We all know now that environmental awareness has become even more important for everyone. The number of people supporting sustainability is increasing day by day. Nature-friendly couples prefer to continue this support in wedding areas. They never allow leftovers from their wedding meals to be thrown away; they give to their relatives, needy or street animals. They pay attention to the use of bamboo straws, permanent gifts, dry or potted plants for decoration, and recyclable materials. They have their invitations made with recyclable materials or they prefer e-invitations. They support nature by planting saplings on your behalf with their budget, instead of having them made with gifts like wedding candy.
WEDDING NOW, AFTER THE BIG PARTY
A strong guest list of 10 or 30 will not prevent couples who are in love and ready to get married. But why would they give up the party even if it's not the same day or month?
People don't want to put their marriages on hold. With this uncertain future, celebrating love has become more important than ever. Couples prefer to have a small and intimate ceremony to formalize their marriage with their close loved ones. They plan to have a bigger celebration at the right time with larger family and friends. Maybe the first anniversary party…
Many couples are planning their micro wedding for 2021, which will be beautiful and meaningful. But then they plan a bigger celebration in 2022 with a celebratory ceremony. In fact, they celebrate twice. Again, this is a reminder that life should be a celebration.
SKIRT SIZES ARE CHANGING
Smaller and more intimate ceremonies began to move brides away from the traditional maxi dress. While the search for bridal gowns, mini and midi wedding dresses increased, designers started to include these pieces in their collections. Brides are now looking for more casual and casual silhouettes that they can wear again after the wedding day, rather than long dramatic wedding gowns. In addition, brides-to-be began to prefer flat or low-heeled shoes, with an even more interesting change, instead of shoes such as stilettos and high heels.
CREATE CUSTOM PHOTO FIELD
The turmoil of the past year has made brides and grooms realize the value of creating memories on their special day. Perfect photos to be remembered by the people who were with them on this special day have become even more important. As a result, creating a special photo scene has been added to the list of those hoping to create memories that will last a lifetime. Special concept areas created for photography at the wedding venue; It allows you to create emotional memories with your guests and to quickly convey your happy day to social media.