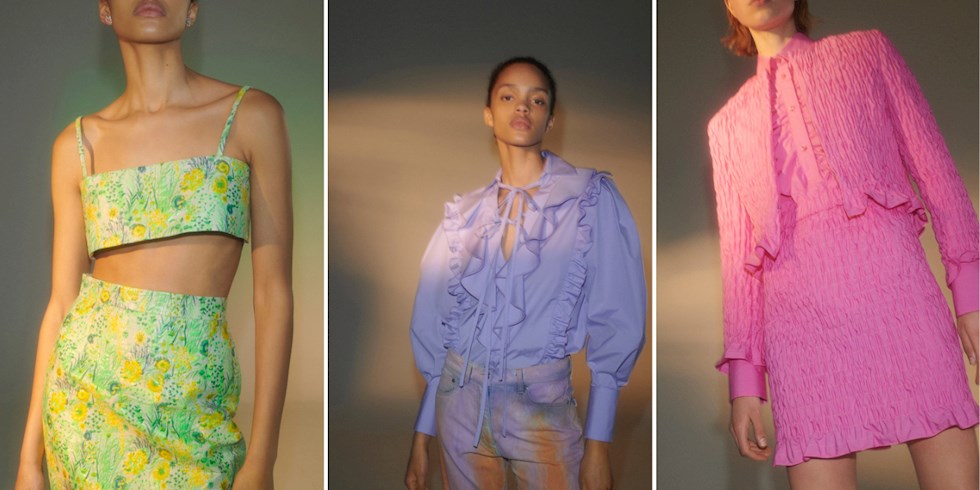 Creative director Massimo Giorgetti presented a cool MSGM Resort 2022 Collection infused with chirpy seduction. Giorgetti is the one-of-a-kind creative director who likes to connect strongly with the younger generation to turn their energies into MSGM collections.
For the holiday, the designer interpreted a certain hedonistic desire for self-expression and self-disclosure that he saw looking at people on the streets. "I see a lot of skin, it's like people want to be seen, they want to reveal their bodies," she said. As a result, Giorgetti presented a collection that reveals a lot of skin, but somehow it's more chirpy and cool than sexy.
During a conversation, Massimo Giorgetti said, "There is a lot of myself in this collection; my love for art, my passion for music, my memories of the 90s…" The MSGM mood board featured images of Giorgetti's latest obsessions; Pale lilac record cover of Mazzy Star's 1993 hit "Fade into You", Gabriel Orozco's torn tapestry collage, geometric diamond with a heart painted by Jim Dine, patterns made by Italian artist Paolo Gonzato…
"I brought it all together with the help of Nirvana's Come as You Are"
Channeling the '90s vibe – in fact, the designer cited Nirvana's song "Come as you are" as the ideal soundtrack for the collection. Numerous off-the-shoulder and strappy tops, bralettes, and crossover details reflected.
In a balance between feminine and rebellious, she combined more romantic and sweet micro-floral motifs with splashes of watercolor-like effects on tulle, sometimes pairing them with artwork-inspired graphics by Paolo Gonzato.
The collection also created a retro sporting effect with tracksuits, while cotton quilted shirt jackets trimmed with oversized silhouettes tied the look to cool streetwear. Fascinated by attractive color effects, cold-washed suits and maxi parkas in sustainable waterproof materials seemed like an indispensable item for those who can't give up on style but want to stay green.