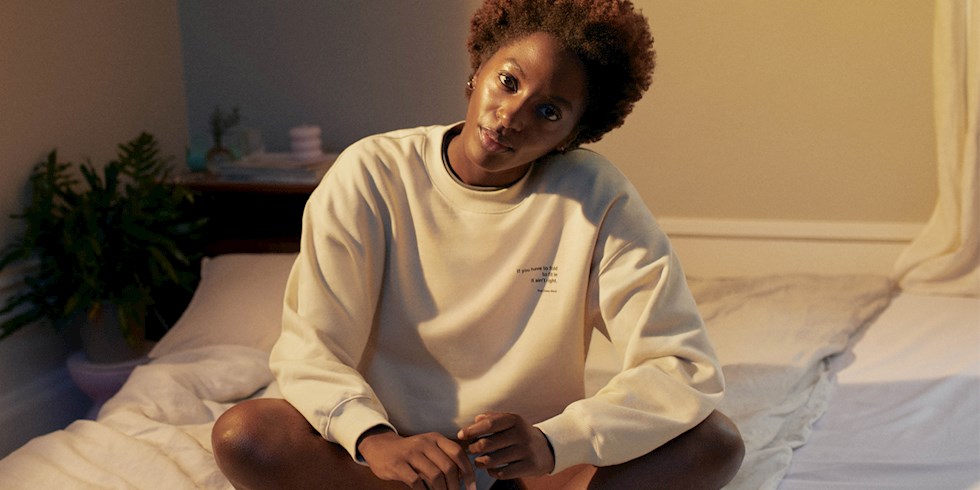 H&M is launching a collection with writer, artist and storyteller Yrsa Daley-Ward, whose powerful poems touch on life, femininity and self-worth. Using Daley-Ward's words, H&M offers home clothes combining more sustainably sourced materials with these positive words from Daley-Ward. The Yrsa Daley-Ward & H&M collection includes quotes from Daley-Ward's long poems that represent self-confidence and promise, such as 'If you have to change to adapt, you are not in the right place' or 'You will always have your own heart'. Key pieces include the slogan sweatshirt, oversized T-shirts, short tops, off-the-shoulder hoodie and striped bermuda shorts, made entirely from more sustainable sourced fabrics such as organic cotton and recycled polyamide.
Silhouettes promise both comfort and elegance, especially with their wide or body-stick shapes. Soft dove gray and light beige tones blend into the collection for a calming and encouraging feel that sage greens warm. Daley-Ward will be the main character of the campaign, with each piece reflecting hope and the empowerment of women through a series of films made with her bold words.
The first selection of the collection is currently on sale at hm.com. The entire collection will be available in selected stores worldwide and on hm.com starting February 11.