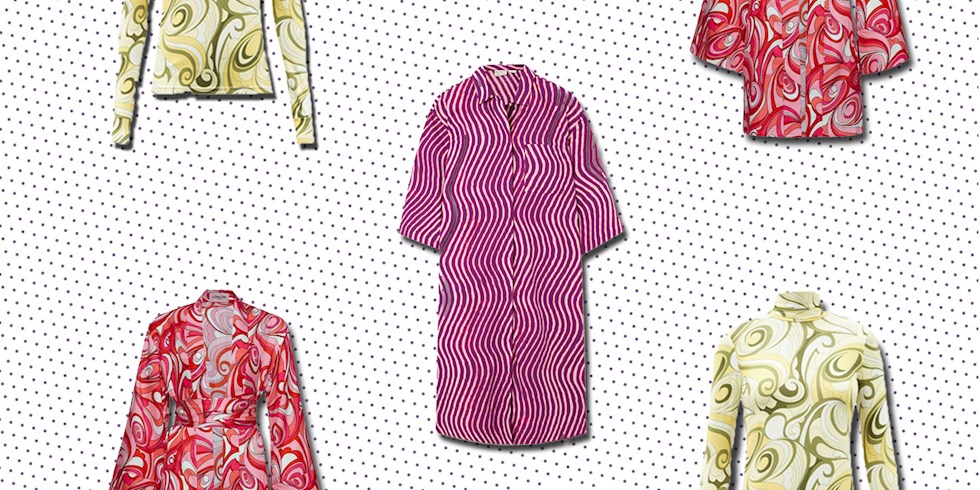 Batik patterns, which have become our quarantine uniform, are undergoing transformation. After a year of grays and beiges, it's time to throw off the thick knitwear and heavy hoodies! There's no 'street fashion' situation for now, but it's never too late to start preparing for the good and the good times. In this period when we are a bit confused and we do not know exactly what to do, our feelings are reflected in fashion. We wouldn't have thought that confusion would look this beautiful! Inspired by 60's psychedelic artworks, Spring – Summer 2021 patterns express our confusion with art and fashion.
Incorporated into fashion by the Italian designer Emilio Pucci known as the 'Prince of Pattern' in the 1960s, these wavy and abstract patterns shaped Pucci's designs for years. These illusion-like patterns, which we saw on banners and festivals during the flower boy period, stood out on dresses, shirts and trousers in the 60's and 70's. Now on the agenda again, the patterns that create eye play reveal stunning styles from the chaos within us.
Psychedelic inspired patterns, which have become favorites of Instagram it-girls, turn our social media page into a retro art gallery. Interpreting these vintage patterns with vibrant and pastel colors, the designers are creating a pattern trend that we can call the 'New Psychedelic Period'.
Illusion patterns, which interpret the effect of batik patterns in a much more eye-catching way, carry the old to the new. If you feel a little bored with batiks, it's time to add this fun pattern game to your wardrobe and your life.
If you are ready to include psychedelic patterns that will literally turn your head into your wardrobe, you can examine the pieces we have chosen for you in the photo gallery.