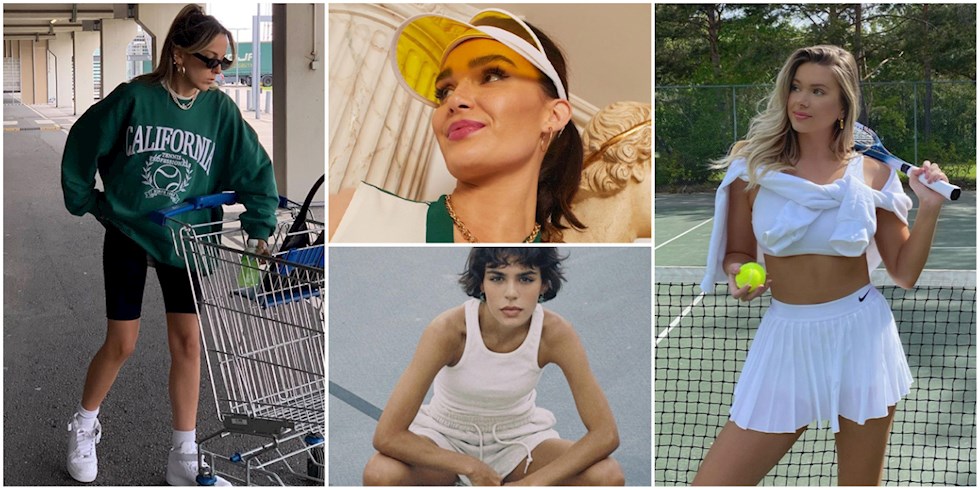 Last year, tennis skirts had become a trend both on the court and on the street. Tennis skirts, which are suitable for all occasions, took over everyone's page in Instagram style shares. After discovering the comfort and coolness of tennis skirts, we realized that there are many more pieces to discover in retro athletic wear trends. That's why tennis skirts aren't our only passion in Summer 2021!
Retro logo sweatshirts, white socks with colored stripes, visors, logo baseball caps, tennis dresses, oversized elastic shorts and much more! We turn our style into a fashion history lesson by adding all the athletic trends from the 1920s to the 1990s in our wardrobe. From preppy styles to '90s hip-hop passion, retro athletic apparel trends make dressing up fun.
You can create a look borrowed from an old postcard with knit vests, polo shirts and tennis skirts. Oversized sweatshirts and baseball caps, as well as super-retro athletic apparel styles that are pretty cute, refer to the American rush of the nineties.
We may be a little late to become a member of 80's sports clubs, but fortunately, you don't have to be an athlete to enter retro vintage trends! With the vintage athletic wear trend, you can always be ready for fun activities in Summer 2021, even if you only go to the cafes. Golf, tennis, sailing or picnic in the park… It doesn't matter. The must-have style of this season is determined by the active trends of the past years!
You can take a look at the vintage inspired athletic clothing styles we have selected for you in the photo gallery…