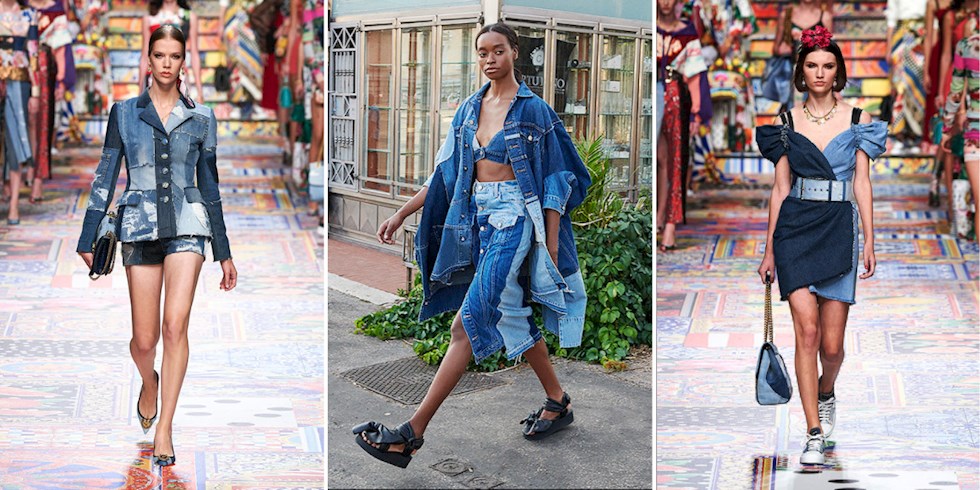 Denim is a wardrobe essential. From oversized jackets to body-hugging jeans, jeans never go out of style. But recently there's an update to this classic texture: patchwork! The classics we know come with a new twist inspired by DIY. This year many designers are displaying creative and artistic patchwork styles in their collections.
Patchwork denims will always have a nostalgic appeal, we admit. Combining different fabrics and deliberate attention to detail take us on a journey to the 70s. However, this denim trend, which was quite modest in those years, has started to enter luxury collections in recent seasons.
Collections of the season such as Dolce & Gabbana and Red Valentino have rekindled the trend that is now taking full effect. Following these trails, brands and celebrities have embraced the old yet new look as one of the most stylish ways to wear denim. Many inflencers have been using street style patchwork pieces for months now and are setting the standard for fashion girls everywhere.
In a world dominated by plain skinny jeans and straight silhouettes, patchwork denim pieces can be a daring choice. But it's worth including in your style!
Shorts, skirts, jackets, trousers, tops, dresses and even accessories; it is possible to see all kinds of pieces as creative patchwork denim… Red Valentino's design that will allow you to look at pencil skirts differently, Dolce & Gabbana's low-shouldered mini dress, Stella McCartney's belted jacket with a sporty touch, Etro's jeans with their signature design and patterns. presents us the patchwork pattern with all its creativity.
All patchwork denims tend to have a 70s sensibility playing with silhouettes. Considering that we are going through a very sensitive period, including fashion, we have some tips for you. Thanks to this period in which we celebrate creativity, you can recycle your jeans at home with the DIY method. You can give it a chance to reuse it by adding a cool patch to your denim jacket that you don't wear or are tired of wearing. Or you can turn your ripped jeans into a completely different design.
As for the trick of wearing patchwork pieces; You should keep your outfit pretty simple. It is not an easy style to combine with your daily clothes. So before you wear a patchwork piece, it's a good idea to do some research to get some ideas.
Check out our photo gallery of the coolest pieces to try the patchwork denim trend.