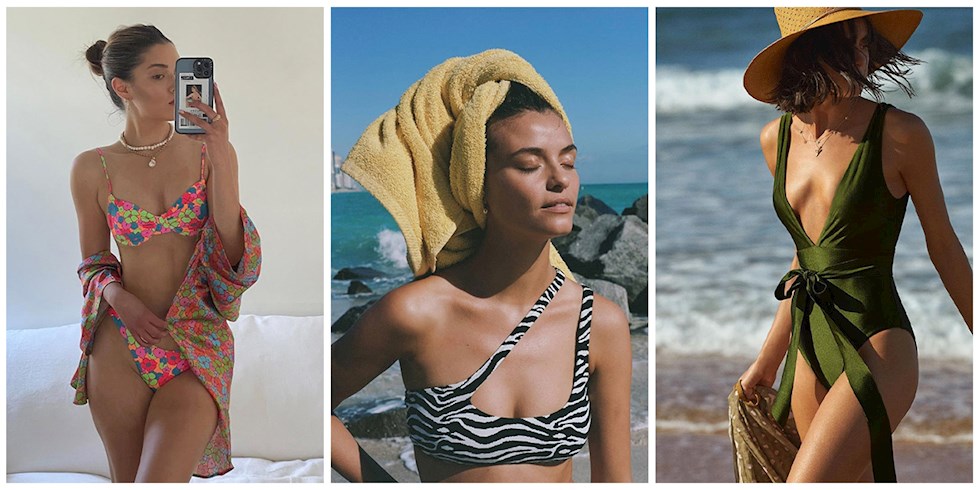 Whether it's a pool in the city or the beaches on a vacation getaway… We see no reason not to try swimwear and bikini trends. In recent years, it is possible to use the bikini tops, which have even been used in daily style, in city life. Since the weather is getting warmer and we are officially entering the summer season, we are very excited to tell you about one of the funniest trends, swimsuits and bikinis. Get ready for swimsuits and bikinis that will liberate you by stating that every body shape is a 'beach body'!
Just like in every clothing category, we see a past passion in swimwear and bikinis. From Bella Hadid's tankinis on Instagram to Sofia Richie's '70s-inspired cut-out swimsuit and red swimsuits referring to Baywatch, we can say that the retro scale is quite wide this year. We are going through an unlimited time travel in 2021, where we borrowed underwire from the sixties, cut-out details from the seventies, frills from the eighties, and single shoulders from the nineties.
In these years when we are much more fond of nostalgia, just like the warm and smiling memories of the past, clothes take us to these beautiful times. You will feel like a movie star with retro bikini and swimwear trends that add sparkle and glamor to your beach and poolside elegance with small details. In the fashion cycle where new things are old and old are new, we carry the vintage trends that we cannot give up to small holiday getaways or pleasant breaks.
You can examine 8 retro swimwear and bikini trends of Summer 2021 in the photo gallery …