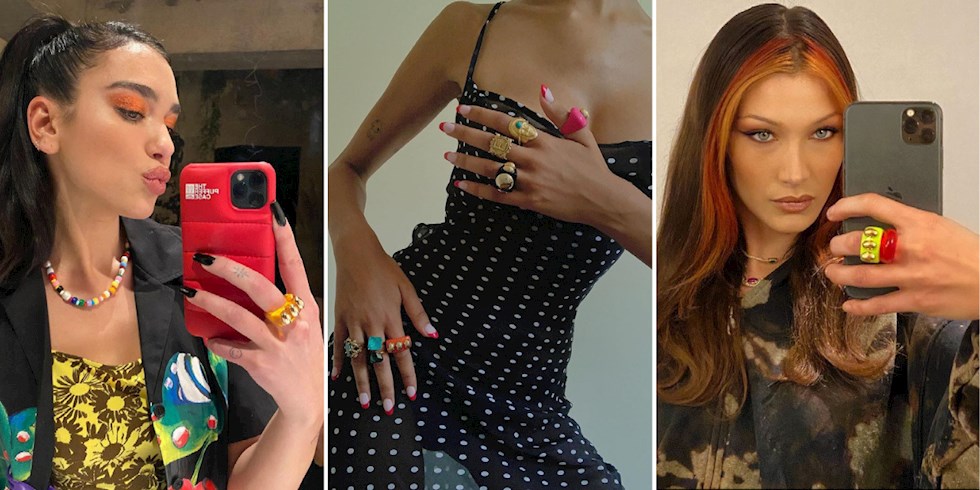 If you follow the latest trends in social media, we are sure that you will see the colorful big rings wrapping your page! This cute accessory, which has become everyone's favorite from influencers to celebrities, also winkes at the 90s. Fun and childish and rings are among the choices of many celebrities such as Bella Hadid, Dua Lipa and Miley Cyrus. The last stop of maximalist jewelry trends, these oversized colored rings are among the trends of Spring – Summer 2021.
We love to use minimalist metallic rings together, but this season we can't help but wear maximalist colored rings on all our fingers. Bold and eye-catching, these rings look great when combined with the colorful manicure trends of the season. You can see these large rings inspired by colorful balloons in different shapes and even patterns. Available in many materials such as ceramic, glass, plastic and resin, these rings will add color to all your styles, from track suits to summer dresses.
These candy inspired rings, which you can see as a practical mood booster, are a great choice for our days. No matter how delicious these rings look, do not try to eat them, which will make your face smile and emit positive energy throughout the day!
You can see the sugar inspired rings we have chosen for you in the photo gallery …