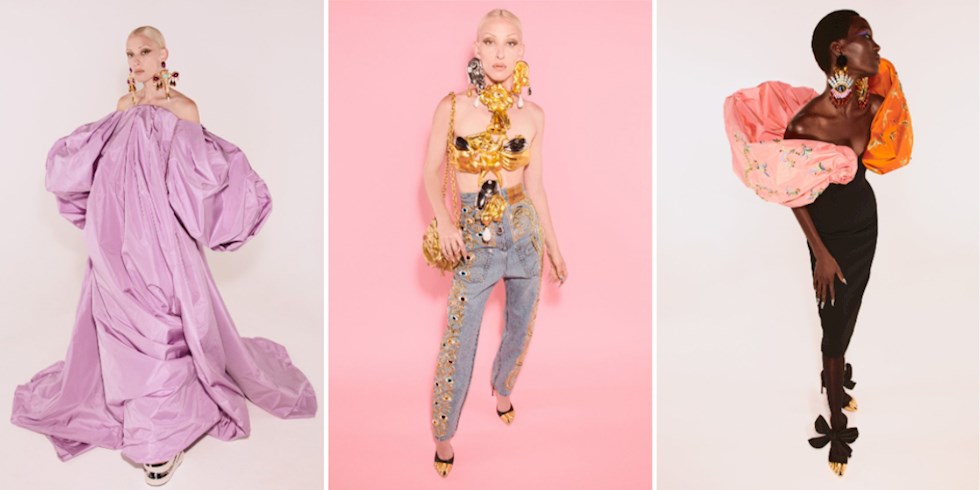 "I've been saying for two years that I don't care about nostalgia. But this season is where it all started. I found myself wondering over and over again: What if you combine some Manet; some Lacroix; a bit of the 1980s; some 1880s; a little matador; a small alien; some Ingres; a little sparkle; many colors? Can I do it? And how will it look?" Schiaparelli begins, describing the collection…
Schiaparelli's fourth special design collection "The Matador": a collection that honors Elsa's vision but is not a prisoner of it. If last season was about deconstruction, pushing the boundaries of fashion, trying to overturn all the unspoken rules, doing things we don't have to do, then this season she felt the freedom to do something fiercely, creating the collection.
The collection also represents a return to innocence, the joy that drove the designer to fashion in the first place. "A year ago, I felt like I was designing for the end of the world. But the world didn't end. We are still here. Fashion is still here… Couture is still here. And not only is it still here, but its power is greater than ever in a world that is increasingly dependent on what can be easily copied and spread digitally."
The designer wanted to honor the potential and power of the art form by returning to the fashion he loved in his youth. Blind nostalgia is not healthy: We cannot romanticize the past, especially when the past is not romantic at all for many groups of people. But the gift of fashion is the ability to let us pretend, and this is also its promise; If we dream enough, maybe we can bring that beautiful past to life.
The collection was designed in three sections.
The first pays homage to the Schiaparelli jackets of the past: in a matador-inspired white denim matador-inspired jacket worn over a structured tulle skirt, with wide embroidered sleeves and black silk tassels; You see references to earlier iconic shapes of the Maison. A direct homage to the Jean Cocteau x Schiaparelli masterpiece from 1937; A black wool crepe pleated sleeve look is available, heavily embroidered with dozens of silk roses. The collection features garments made from vintage Schiaparelli swatches that have been fully recreated. All thought to be in conversation with some of Elsa Schiaparelli's most irreverent, creative creations of the late 30s, recreated using many of the same techniques and materials.
The second part of the collection focuses on the body and jewelry, an important element of the visual vocabulary of the fashion house. There are dialogues here between hard and soft, machine and human, metal and fabric. Here is a delicate pair of human lungs, made of a capillary network dipped in gold, worn over a solemn black crepe dress… Body sills paired with a stole made of black shredded garbage bags interwoven with pure silk…
Finally, there's a celebration of color, in the middle of which is a perfectly fitting black stretch velvet dress with a huge shocking pink silk shawl; a silk velvet dress with soft breasts… Everything here looks both extravagant and deliberate: the colors – cornflower blues, salmon pinks, terracotta oranges – are as flamboyant and cheerful as the shapes themselves.
This collection is described as as staggeringly emotional as falling in love. It's also a tribute to romance, to excess, to dreams, because is there really anything more urgent today than dreaming big? Is there more than just imagining a better world?
"Here's what I want: No more stereotypes. No more pieces that look like they were made by anyone. No more cynicism. No more irony. No more shyness. No more coolness. Give me more beauty, more seriousness, more romance, more effort. I hope this collection reminds everyone who encounters it of the pure pleasure that fashion can bring us in difficult times and the promise of more joy when the clouds clear with it. Give me more fashion. Give me more hope."