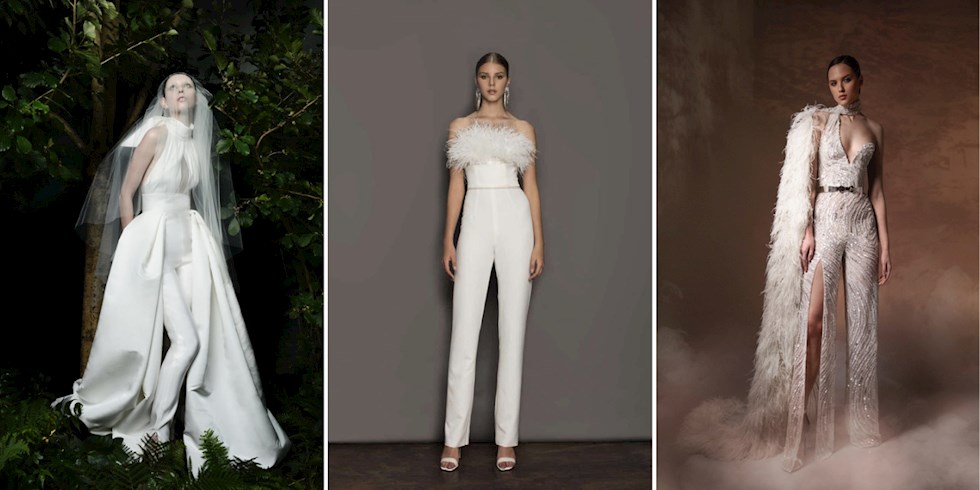 An extraordinary option has emerged for the comfortable and effortless stylish understanding of the new generation brides; bridal overalls! A simple wedding, a crowded wedding or an intimate celebration… Whatever your concept is, jumpsuits in different designs play the leading role in the preferences of sophisticated brides.
In the last few years, many designers have started adding bridal jumpsuits to their wedding collections. This means that nowadays – more than ever – there are different styles for every style bride.
Minimal, sparkling or bohemian… Modern brides, simple and stylish overalls with minimal details; Bohemian brides prefer comfortable styles made of linen or lace. Brides keen on magnificence, on the other hand, choose embellished and sparkly overalls.
Jumpsuits are a great alternative for brides who still want to feel special on their wedding day without having to wear a big white dress. A bridal jumpsuit can also be a great option for any other event before the big day – get-out, engagement party, bridal party or celebration. . In addition, jumpsuits are highly preferred for a comfortable but stylish second look before or after the wedding dress. In other words, bridal overalls can be used more versatile than they seem.
THINGS TO PAY ATTENTION
Just like bridal gowns, bridal gowns come in countless silhouettes, lengths and fabrics. When it comes to narrowing down your options, it's helpful to determine which silhouettes are best for your body type and which fabrics are appropriate for the season. If you want a classic and personalized look, choose overalls with fitted silhouettes and tapered legs. For a more modern look, opt for wide-leg overalls with an asymmetrical neckline. And remember that as with any wedding outfit, your bridal gown may need a tailor, so it's important to leave some room in your budget for any alterations.
ACCESSORY PREFERENCE
When it comes to adding accessories to your bridal gown, you should be inspired by your personal style, wedding venue and theme. Minimal overalls are a versatile style that can go from the city to the beach depending on the accessories; Baroque pearls, diamonds and sculptural gold pieces are among our favorite accessories that can be used… If you are having a beach wedding, choose short block heels and raffia accessories. For flamboyant brides, bold accessories such as colorful heels and shoulder-length earrings provide the perfect finishing touch.
In the collections of the season, modern, simple, flashy or dramatic; There are jumpsuits in various silhouettes suitable for every bride's style and budget. Do not forget to examine the overalls designed with different touches that we have chosen for brides.