SHANSIM ADALI – CREATOR OF THE COURT ETUZ BRAND
Timeless piece of her choice: All pearl knit jacket from her grandmother

"The production year of this completely handcrafted piece coincides with the founding years of Paco Robanne, with whom it is very similar with its design style. A semi-transparent jacket adorned with precious and semi-precious stones. Just as Chanel's first tweed suits were museum objects, this jacket is a true example of high fashion craft."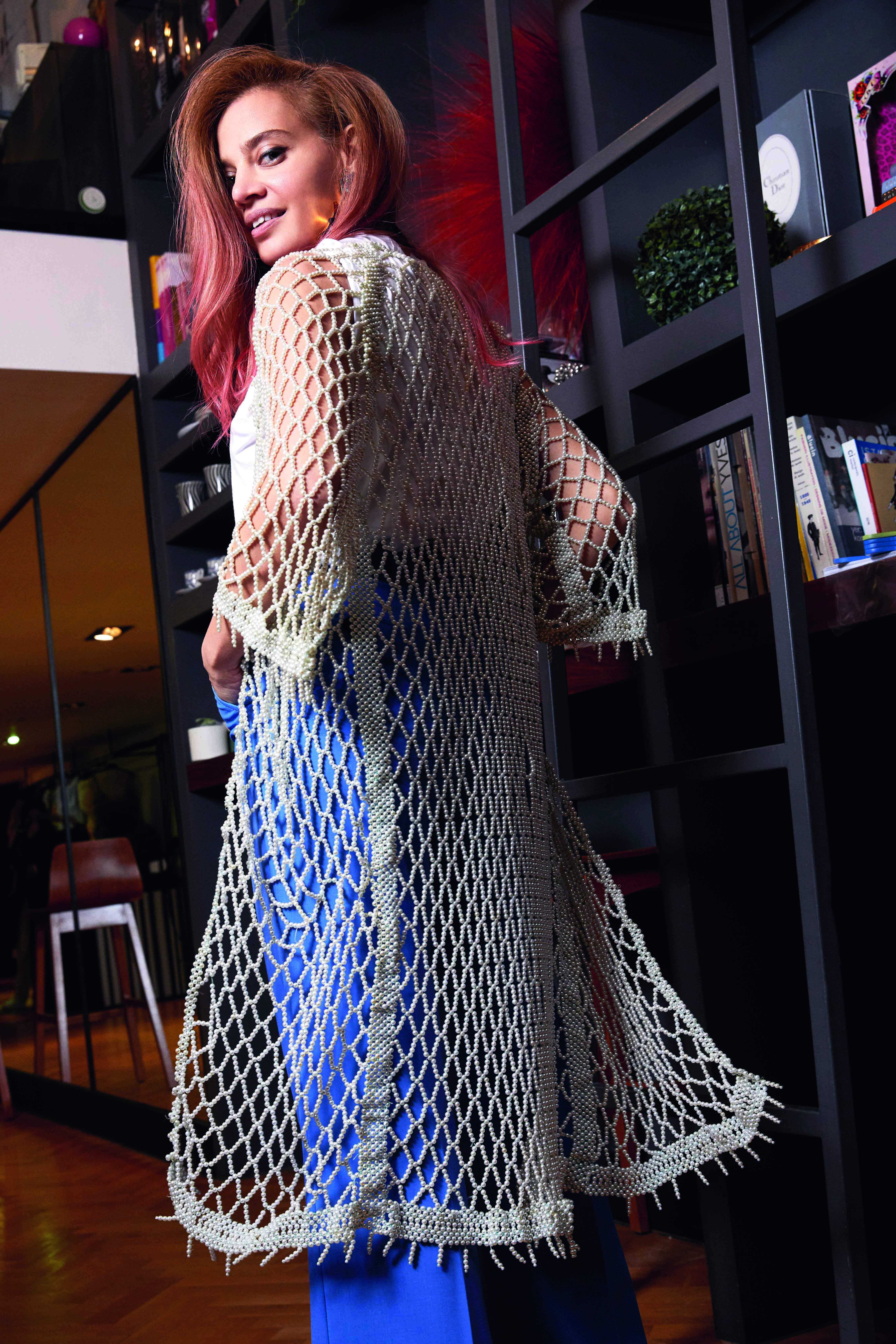 Can you share with us the story of the pearl jacket?
Today I wanted to carry this piece, which has an infinite value for me and has a very special place in my life. This is a design that is inherited from my grandmother and will be a heirloom to my daughters, that wraps around the body, is knitted entirely from pearls, has the quality of a cape and creates a second skin feeling when worn. His story is also very special. In the late 60s, my grandmother bought a black pearl bolero on a trip to Italy, and when she returned to Turkey, she ordered a long version of the bolero from her tailor here. In Turkey, white pearls are covered with a laminar blue and a reinterpreted piece emerges. My grandmother wears this piece for the first time over a strapless lame jumpsuit at a party at Dolmabahçe Palace and is admired. Then, he completes the theme of Cleopatra, which he represented at a costume ball, with this piece again and is featured in the press.
Who would you like this piece to be in after you, and how would you like it to be valued?
My grandmother entrusted this special piece to me as a wedding present. I will entrust the design, which is now a family heirloom, to my daughters, which is invaluable especially due to its spiritual value.
What kind of an outfit do you combine this piece with in general, with which pieces and accessories?
We embrace the "street couture" identity with Sudi Etuz. In my brand and in my private life, I prefer to match night looks with pieces that convey daytime looks. It is very enjoyable to see grotesque tulle with denims, and thin strapped dresses with bodies and shirts. I wanted to carry this piece in this way in order to examine the street reflection again.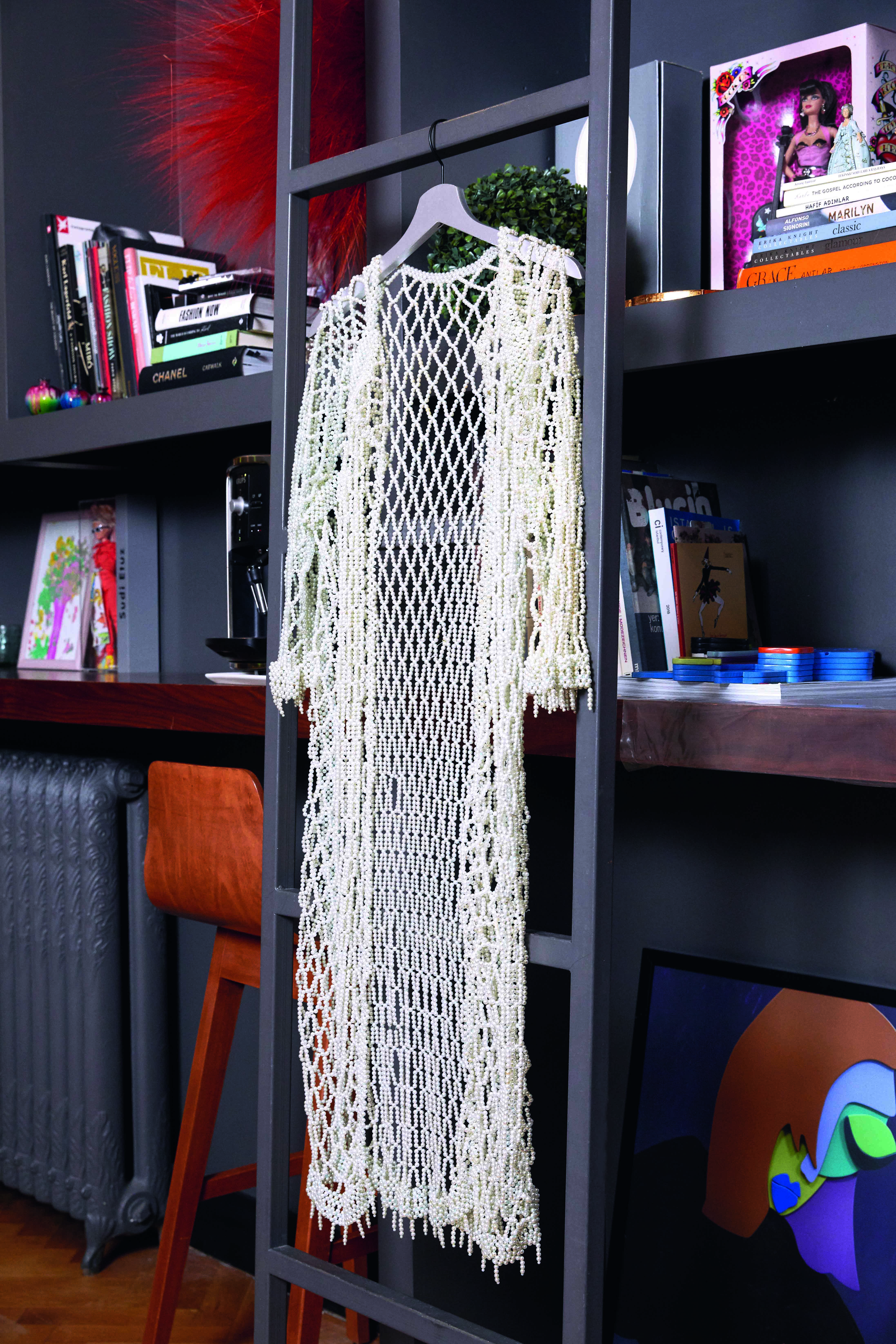 How did you complete your grandmother's jacket today?
I wore Sudi Etuz denim pants and a white T-shirt. I completed the outfit with Begüm Khan earrings and Amina Muaddi orange shoes. Thus, the piece that my grandmother wore at a palace invitation many years ago can meet with a much more daily, more "street" look today. This is where the value of timeless pieces comes from. The pieces produced by the craftsmen of the period can be reinterpreted at any time and adapted to the era.
What qualities do you think a piece that can be considered a fashion investment, timeless and classic should have?
I divide the ability of a fashion design object to be an investment in two. Firstly, the pieces belonging to a big fashion house that have been established in the past and have proven themselves in the field of design and art and will live for many years. The second is handcrafted pieces with magnificent silhouettes made by local artisans and tailors. Searching for vintage pieces that reflect the world-changing trends of well-established fashion houses or acquiring handcrafted pieces that represent our local culture is so good especially for the collectors…
Can you tell me a few pieces from the Spring/Summer 2021 season that can be considered as fashion investments?
I think the designs of big brands that have entered mass production will not have investment value in the long future. "Limited edition" capsules and the first collections of brands that deal with specific issues (especially emerging brands) will be highly appreciated. For example Marine Serre's Ball Bag, Jacquemus' Chiquito bag with an idyllic interpretation.
Why is it valuable to have timeless pieces?
The parts that make one feel the beauty of being lived and worn out, and that evoke emotions that push the person to hide, protect and preserve are always valuable in the history of humanity. In these days when we rediscover ourselves, it is very sublime to attribute value to the experience rather than owning the new and fast. Smart designs and pieces of brands that attach importance to sustainability for fashion investment are as valuable to me as a unique vintage piece.

What is your motto about style and fashion?
How you found it better leave it.

ARTICLE: SELIN MILOSYAN
PHOTOS: YEŞİM ÖZÜGELDİ
Taken from ELLE Turkey April 2021 issue.