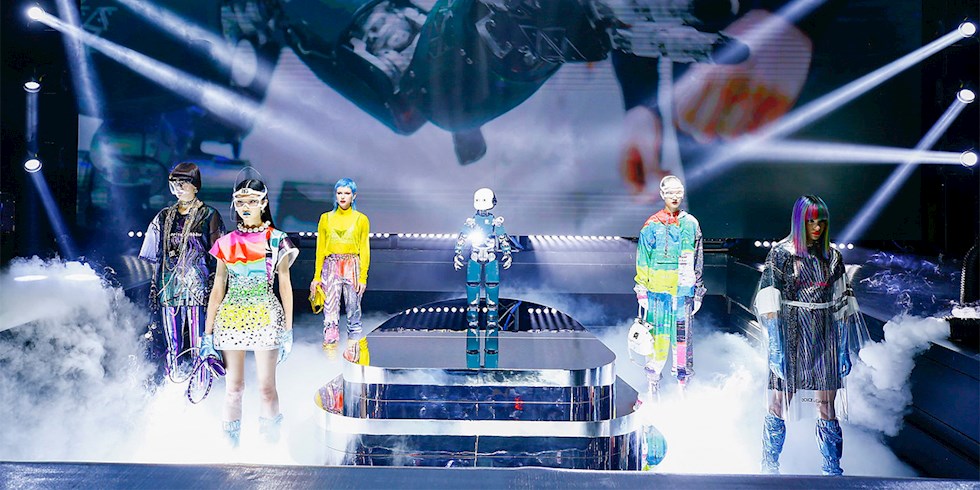 Dolce & Gabbana, which we anticipate enthusiastically every season with their colorful fashion shows, this time surprised in a different way. Dolce & Gabbana, who opened a new era, came together with Istituto Italiano di Technologia (IIT) and underlined that futurism is very close. Dolce & Gabbana, which uses robots along with models in its show without an audience, created frames that are not like the 'Star Trek' series. Using iCub and R1 multi-functional humanoid robots, the result of IIT's highly specialized research in service robotics and Artificial Intelligence, Dolce & Gabbana showed robots as a work of art at the center of the show, controlled from behind the scenes.
Dolce & Gabbana, winking at the last period when the world is much more digital, signaled that it will focus on artificial intelligence and augmented reality. The Italian brand, which handled all the fun futuristic touches, put its signature under an unforgettable show with its Technicolor graffiti designs and sparkling materials. Referring to robots with neon wild patterns, holograms and armored suits, Dolce & Gabbana even eccentrically updated their iconic crown!
Confirming the idea that 'you cannot look to the future without knowing the past' as it is always said, Dolce & Gabbana benefited from the corsets and padded suits in their archives. Borrowing some styles from the '90s fashion, Dolce & Gabbana has prepared a collection that brings together the past and the future.
"It is incredible to think how human intelligence and determination can bring new forms of intelligence to life that can learn from their own experience and can be used in medical, environmental and social fields," said Domenico Dolce & Stefano Gabbana. They made a press release about their technological fashion show, adding that "if technology really serves man, his needs and passions, then a craftsman and a robot can coexist."