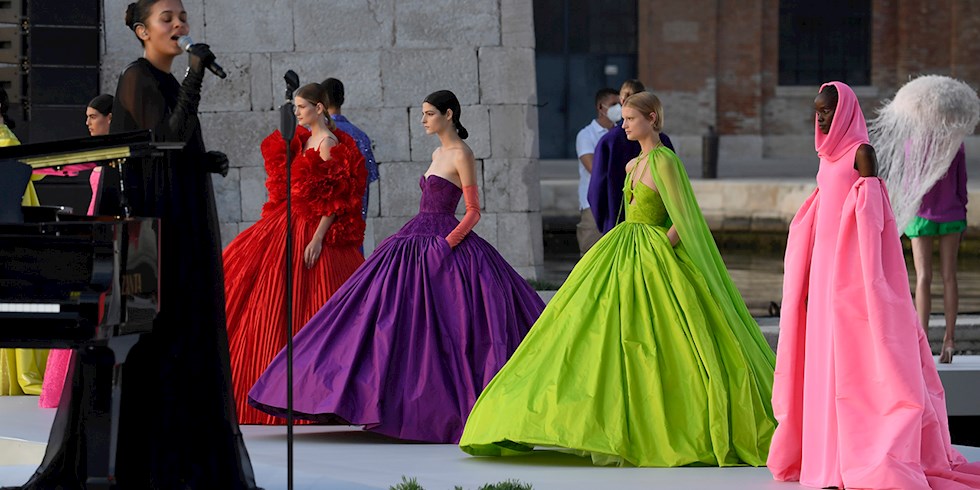 Art and fashion came to life again with Valentino's Des Ateliers couture collection. Pierpaolo Piccioli, who presented the Valentino Des Ateliers couture collection in Venice last Thursday, considered the place of art in fashion while designing. Meeting with 17 different international artists, Piccioli created 22 of the 82 designs in the collection with these artists. The designs, which are pieces of art in themselves, are completed with bold colors and eye-catching details.
Andrea Respino's work inspired a coat, while Piccioli stated that this design was created from 150 different fabrics. Made with the help of Respino, this coat is designed with many textures, from satin to sequin. In another style, Piccioli, working with Chinese art curator and photographer Rui Wu, designed a striking sequined slip dress. Piccioli, who did not ignore the styles that have become Valentino's signature, reinterpreted the legacy of the brand with the touch of artists. Making a reference to a work by Alessandro Teoldi, Piccioli designed a hand-embroidered toilet with red fabrics from Valentino's iconic archives.
Reflecting the place of rare works in contemporary art as the place of haute couture in fashion, Piccioli mostly worked with painters for his private couture collection. "Fashion and art are creative processes that respond to different purposes – one is a concept that is free from body and movement and the other is completely free from boundaries," Piccioli said, comparing both art types to each other. "A contest of passion, an idea and a tangible object," he added. Stating that both fashion and art describe moments and perspectives in history in their own language, Piccioli said, "I felt that there was a lack of connection and confrontation, and I needed to create a factory of artists, a community with different perspectives that would inspire each other. I wanted to reflect the spirit of the artist, not to stamp a picture on a t-shirt as a museum souvenir," he said.
Piccioli said that he is aware that the viewers may miss all these layers and deep meanings and added that the designs can be interpreted from different perspectives. "The artist may have a reading of deep meaning or just fashion. Because fashion is in the creative process and not just in its packaging. Art, on the other hand, is something that is reflected in aesthetics and there is no storytelling," Piccioli said. "Fashion needs to create beauty, arouse interest and curiosity. But it can also be powerful, have a political language, and represent a picture of the world. Most of the time the world changes and fashion perceives it later, but I want fashion to be a medium of change," she added. Choosing the Gaggiandre location, which is a part of the Arsenale that hosts the Venice Biennale International Art and Architecture Exhibitions and International Dance, Music and Theater Festivals sponsored by Valentino, Piccioli created a fashion feast in Venice.
Echoing the spring couture collection with different silhouettes and sculptural designs, Piccioli once again designed skirts over pants for men by eliminating gender identities. Blurring the lines between men's and women's clothing, Piccioli also turned to a fascinating color palette. Towards the end of the show, the Valentino Des Ateliers show, which became more colorful with the performance of the singer and songwriter Cosima, locked the audience on the screen.