If you're one of Balenciaga's 11.6 million followers on Instagram, you've probably noticed the French fashion house's unexpected move: deleting all past posts. Balenciaga, which is in the Kering fashion group, has attracted the attention of the industry with its surprise move on social media, just like its sister company Bottega Veneta. Bottega Veneta, which deleted all its social media accounts last year, was planning a "more progressive and thoughtful" visual narrative, according to Creative Director Daniel Lee's statement to The Guardian. Bottega Veneta and Daniel Lee, who started publishing digital magazines and films after this statement, said that "social media represents the homogenization of culture".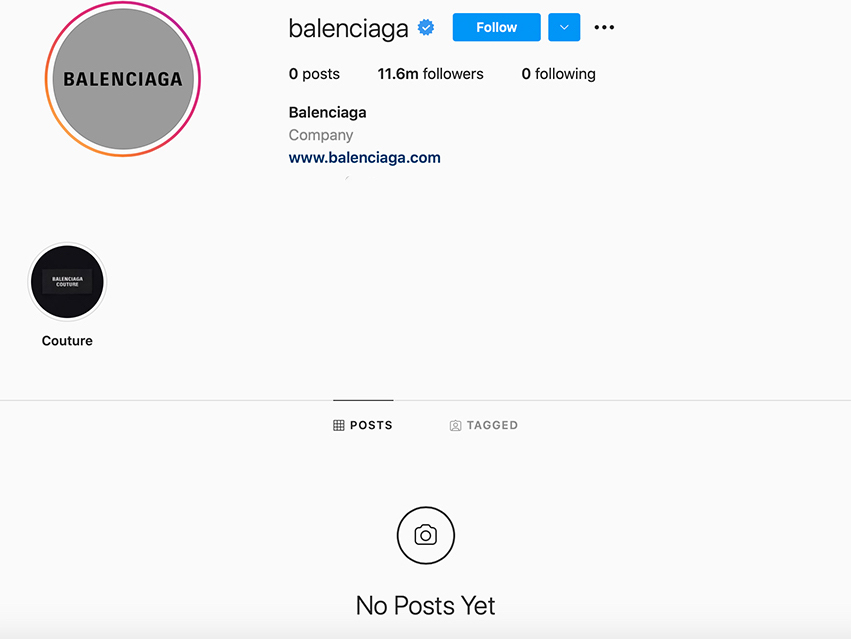 Balenciaga Instagram Account
We don't know what Balenciaga Creative Director Demna Gvasalia has planned for social media, but deleting Instagram is thought to be a move related to the highly anticipated haute couture fashion show. Considering that Balenciaga, which is preparing to show its first couture collection after 53 years, is at a very important turning point, we find it logical that Demna Gvasalia makes such a move on social media!
Demna Gvasalia, who is collaborating with Gucci's Alessandro Michele for the Spring 2022 show, said behind the scenes, "I think social media is boring and for some, dangerously addictive and also quite manipulative. In order to use social media, we must find ways that will cause less harm to the society" and expressed his reaction to social media.
Planning to show the couture show at Paris Fashion Week on July 7, Balenciaga has not designed a couture collection since the brand's founder, Cristobal Balenciaga, closed it to his atelier in 1968. Spanish designer Cristobal Balenciaga, whom Christian Dior once described as "the master of us all", was known for his incredible sewing techniques and draping details. Creating unexpected designs at that time with balloon-shaped evening dresses, Cristobal Balenciaga is seen as one of the most masterful couture designers of the fashion industry.
Balenciaga couture fashion show, which will take place in the restored couture hall of Cristobal Balenciaga, which has been closed for more than 50 years, will be one of the collections we have been most curious about in recent years. "Couture represents freedom in creativity and fashion," Demna Gvasalia told Women's Wear Daily about her couture collection. "And maybe that's why I wanted to do couture designs so much. I believe couture in a modern way can save fashion," he added.